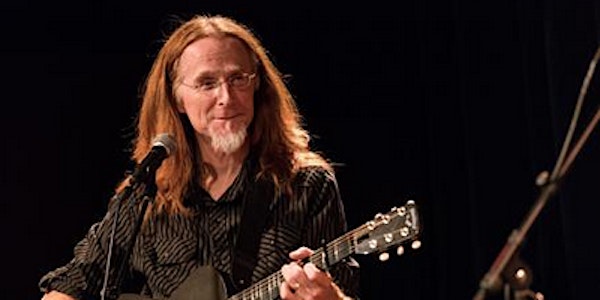 Pat Wictor at Evergreen House
Evergreen House Concerts presents An afternoon of music and stories by a local treasure.
When and where
Location
Evergreen House Concerts Evergreen Avenue Plainfield, NJ 07060
About this event
Evergreen House Concerts presents
An afternoon of music and stories by a local treasure...
Pat Wictor
Pat Wictor of the late and lamented "Brother Sun," is a songwriter rooted in traditional blues, but ranging much wider than that. His strong clear voice and tasty slide guitar accompaniment characterizes his performance and have made him highly sought after in backing up innumerable other performers on recording and performance.
 "...Pat Wictor walks onstage and sits down. He places a Guild DV-52 flat across his lap and begins playing slide guitar. The sounds are snaky and sizzling...."
--Richard Cuccaro, Acoustic Live
Pat Wictor first burst on the folk and acoustic scene as an innovative slide guitarist known for fresh and memorable interpretations of traditional and contemporary songs. Since then he has made his mark as a singer-songwriter penning lean and poetic songs that honor - and subvert - rural blues and gospel traditions. For seven years he toured as one third of Brother Sun, the powerful harmonizing trio with Joe Jencks and Greg Greenway, garnering critical acclaim, two #1 CDs on the Folk DJ charts, and a continent-spanning tour schedule. Wictor's newest recording is a duo album titled Counterpoise, a collaboration with jazz vocalist Deborah Latz. The two first sang together at a vocal improvisation workshop led by Bobby McFerrin. His most recent solo release, This is Absolutely Real: Visions and Versions of Phil Ochs, reached #2 on the Folk-DJ charts and was nominated for Best Tribute Album by the Independent Music Awards.

An American by birth, Pat's early years were spent in Venezuela, the Netherlands, Norway, England, and East Texas. His time abroad gave him an outsider's wide perspective, and set him on a journey to understanding America - and his own American-ness - through music. His early experiences made him accustomed to charting his own course and being ready for the unexpected.

Pat took a convoluted path to folk music, winding his way through rock, heavy metal, jazz, and free improvisation. He started with guitar, shifted to bass, moved to saxophone, and then quit music entirely before returning to guitar, and teaching himself lap slide guitar. He organized and ran a songwriters circle in New York City for 13 years, mentoring and influencing dozens of songwriters. An adept improviser and accompanist, he is sought after as a collaborator, sideman and session musician, with over 60 recording credits to date, including releases by Sloan Wainwright, Zoe Mulford, Jon Vezner, Joe Crookston, and David LaMotte. His monthly e-mail column, "A Few Choice Words," is read by thousands of subscribers. He is a music educator of note, teaching workshops on writing and rearranging songs, slide guitar and other guitar techniques, vocal and instrumental improvisation, body percussion, and various topics of music history.

Recognition and honors have followed Pat for years: he won the Falcon Ridge Emerging Artist Showcase, was nominated for Emerging Artist of the Year by the Folk Alliance, was nominated for Gospel Song of the Year by the Independent Music Awards, and was a finalist in the Kerrville New Folk songwriting contest. His CDs This Is Absolutely Real and Sunset Waltz both reached #2 on the Folk-DJ charts, and Heaven is so High and Waiting for the Water both reached #4.
This will be Pot Luck Affair!
 Pot Luck   'Hors d'oeuvres and Desserts'
 Please arrive at 3:00 PM to share in food and conversation followed by the concert, which starts at 4:00 PM. Coffee will be on hand, but please participate in the potluck by bring something awesome to share with the group, like Food, Wine, Beer, dessert, etc.
Get your tickets now. We can only seat 50 of you!
Important!  The actual street address will be shared by email a few days before the concert.