Description
Alexandria Museum of Art presents an AMoAAfterhours musical performance on May 18th, from 6:30-8:30pm, featuring Music Maker Partner Artist Pat "Mother Blues" Cohen (whose photo, below, is in the Our Living Past exhibition). Admission is Free for AMoA Members, and $5* for non-members. Please download or print your advance ticket.

MEMBERS, USE CODE "AMoAMEMBER" for Discount.
Must show ticket at front desk, to verify membership, for admission.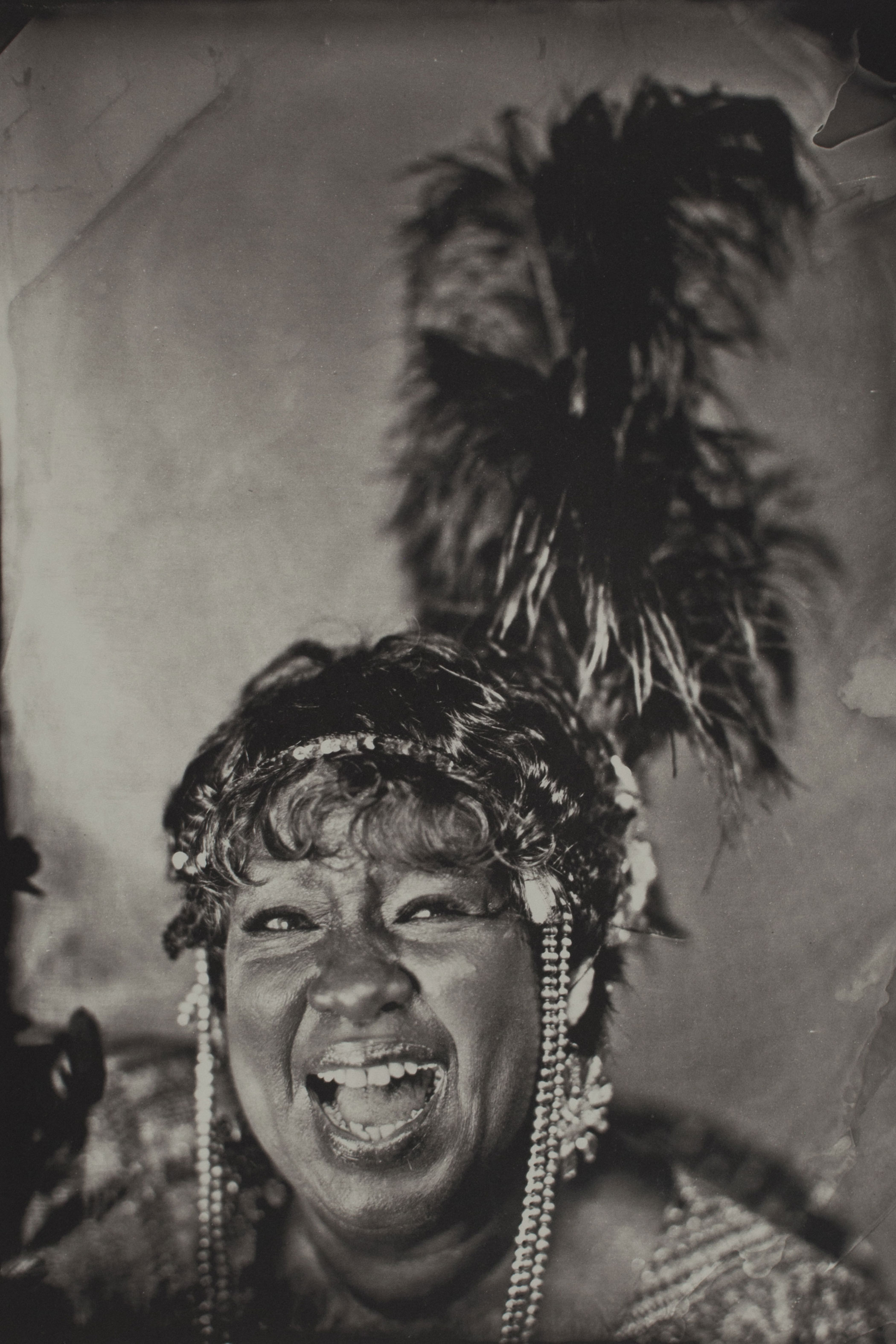 Pat Cohen, Bourbon Street Queen – New Orleans, LA by Tim Duffy
Pat made her living entertaining in New Orleans until Hurricane Katrina took her home in the 9th Ward. She returned to her birthplace in North Carolina and resurrected her career by joining the Music Makers.

Since the age of six, Pat was surrounded by music. Her blues classroom was on the porch of her uncle's house where one played the guitar and the other played the harmonica.

Music Maker assisted Pat through the New Orleans Musicians Fund, and she toured with the Music Maker Blues Revue in Australia, Europe, and the U.S. In 2014 Music Maker helped Pat Cohen get a vehicle so she could make it to her gigs.
About the Our Living Past Exhibition (On View Through May 27, 1017):
Our Living Past, pays homage to the past, celebrates the present, and looks to the future of Blues music culture in the South, and across the United States. This photography exhibition by Tim Duffy and the Music Maker Relief Foundation features palladium portraits of Music Maker Partner Artists. Highlighting Music Maker as a hub for cultural preservation, artists such as Ironing Board Sam, Sharon Jones, and Taj Mahal are among the collective of musicians featured in Our Living Past. The exhibition itself was produced through collaboration with renowned publisher Steven Albahari of 21st Editions and was also sponsored by Cathead Vodka, a dedicated supporter of Music Maker artists. Our Living Past debuted at the Atrium Gallery of the Hartsfield Jackson Airport in Atlanta, GA on November 20th.

The exhibition features original portraits of traditional Southern musicians, whose careers have been reignited through their work with Music Maker. The images were captured by Duffy himself and give a glimpse into the rich historical narrative and vital culture of southern traditional music. Duffy's life work, to preserve this culture, now takes on a tangible form through Our Living Past, and the importance of such a work is already gaining recognition. A recent headline from a piece published in TIME reads "These Portraits of Southern Blues Musicians Prove That Blues Is Not Dead." The article stresses how Duffy's work is re-contextualizing the narrative in which Blues musicians are often discussed.
After a remarkable 20th year anniversary celebration with nods from the Wall Street Journal, PBS News Hour, NPR Weekend Edition, CBS Evening News and many more, this collection of palladium prints has been curated and produced to continue preserving and sharing the stories of Music Maker artists forever.
About Music Maker Relief Foundation: The Music Maker Relief Foundation, a 501c3 non-profit, was founded to preserve the musical traditions of the South by directly supporting the musicians who make it, ensuring their voices will not be silenced by poverty and time. Music Maker will give future generations access to their heritage through documentation and performance programs that build knowledge and appreciation of America's musical traditions. Since its founding in 1994, we have assisted and partnered with over 300 artists, issued over 150 CDs and reached over a million people with live performance in over 40 states and 17 countries around the globe.
*plus online fee of $1.24.