About this Event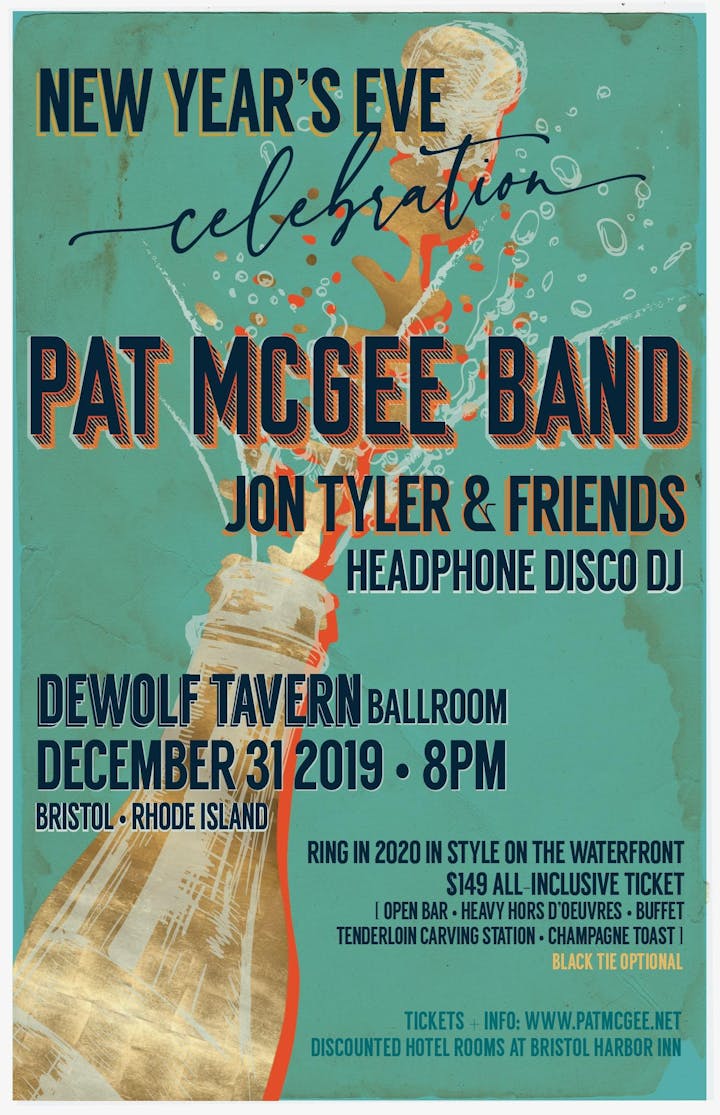 RING IN 2020
with PAT MCGEE BAND & Friends!
Pat McGee is back in the Ocean State hosting a New Year's Eve Celebration at the waterfront DeWolf Tavern in quaint Bristol, RI on December 31, 2019
Keeping it ultra exclusive at under 100 guests allows Pat McGee & Chef Sai at DeWolf to really roll out the red carpet and give people a night to remember!
Treating everyone to full open bar, a bountiful buffet including tenderloin carving station, delicious desserts, champagne toast and a full night of fantastic live music, followed by Headphone Disco DJ (the best silent time you'll ever have) in the stunning private spaces only DeWolf can provide.
—Over 4 hours of OPEN BAR
—Buffet of Delicious Culinary Offerings with Heavy Hors D'oeuvres and Tenderloin Carving Station, Tawa Sautéed Atlantic Salmon, Roasted Turkey, Lobster Mac n' Cheese, Seasonal Vegetables, Mashed Potato and a Mediterranean display of appetizers, a selection of Naan Pizza's, passed Hors D'oeuvres featuring Samosa's Beef Wellington, Shrimp, and desserts!
—Champagne Toast at Midnight
—Pat McGee Band
—Jon Tyler and Friends
—Headphone Disco (DJ Music)
NEW YEAR'S EVE TIMELINE:
8:00 PM
Doors open, the bar is ready to serve and the main buffet is out!
(Seating is spaced out over the two DeWolf upstairs rooms: the dining room and the back ballroom. Most seating will be in the dining room. Various high tops and smaller tables will be placed in main ballroom but seating is "limited" - this is not a sit down dinner, rather a casual party, and everyone is encouraged to mingle and enjoy the food throughout the event.
9:00 PM
Jon Tyler & Friends kick off the live music, so grab your drinks and hit the dance floor!
10:00 PM
Pat McGee Band rocks the house for a full set!
11:30 PM
Headphone Disco (with guest DJ's) takes over and brings the party well into 2020! For newbies to this experience, you may wonder, what is "Headphone Disco"?
Sounds silly, and it is. But trust us, you'll never have more fun on a dance floor (that goes for you "wallflowers" too). You simply put on the provided wireless headphones and let the music take you away. You have 3 different channels to switch between that correspond to the DJ on the stage in front of you. Each DJ is working hard to get you to join his or her "team", while you hear classics from the 50's all the way through the latest radio hits. It's hysterical and you'll be sore from both dancing and laughing come the morning of January 1. There's no better way to ring in the new year with friends.
Put on your best duds because McGee & Co already started practicing how to tie their bow ties and have been working out to get in proper tuxedo shape!
Party safely and stay at Bristol Harbor Inn (call and ask for "Pat McGee New Years Eve Block" (401) 254-1444). This hotel is connected to DeWolf Tavern and is the perfect place to make a night of it!
RESERVATIONS MUST BE MADE BY DECEMBER 1st TO GET THIS SPECIAL RATE.
Don't waste your time and money on overcrowded lame parties with long lines, weak food and bad service. Do it right, come be our guest!
Cheers!