Description
THE ULTIMATE BAKE SALE
Taste exclusive creations from New York City's top pastry talent at Pastryland, a charity bake sale benefiting Hot Bread Kitchen! An afternoon for the ultimate sweet tooth, Pastryland celebrates the talents and imaginations of pastry chefs through delicious, one-of-a-kind desserts you won't find anywhere else. Featuring unique treats from the chefs of Union Square Café, Per Se, Café Boulud, Marc Forgione, Bâtard, Patisserie Chanson and many more, experience the world of sweets like you've never tasted before.
TICKETS
Tickets can be purchased by the following blocks of times:
12:00PM VIP Admission $50, plus taxes and fees (includes first access for an exclusive meet & greet with select pastry chefs and 5 tokens)
1:00PM SOLD OUT
1:45PM General Admission $15, plus taxes and fees (includes entry and 2 tokens)
2:30PM General Admission $15, plus taxes and fees (includes entry and 2 tokens)
3:15PM General Admission $15, plus taxes and fees (includes entry and 2 tokens)

Children under the age of 3 will have free admission.
TOKENS
All tickets receive tokens. Each token can be exchanged for a beverage or prepared food item. Additional tokens can be purchased on-site (Debit/Credit only -- NO CASH) as:
ONE token $5
TWO tokens $9
FIVE tokens $20

Unused tokens cannot be exchanged for cash/credit.
---
ABOUT
Pastryland is the charitable component of Pastry Plus - a conference for pastry professionals aimed at establishing a pastry community that promotes a construcive exchange of ideas and information to secure the future of the industry.
THE CHARITY
Hot Bread Kitchen is a non-profit social enterprise with a mission to create economic opportunity through careers in food. The organization delivers this mission through two main programs: HBK Incubates, a culinary incubator program which offers licensed commercial kitchen space and tailored technical assistance to small food businesses, and the culinary training program, a workforce development program that trains low-income and immigrant women for good jobs in the food industry held in the kitchens of ICC. 100% of graduates are placed in fair-wage food jobs in NYC. To support this mission, Hot Bread operates a commercial bakery and sells breads inspired by the women trained. The organization also raises significant philanthropic capital to support its program outcomes.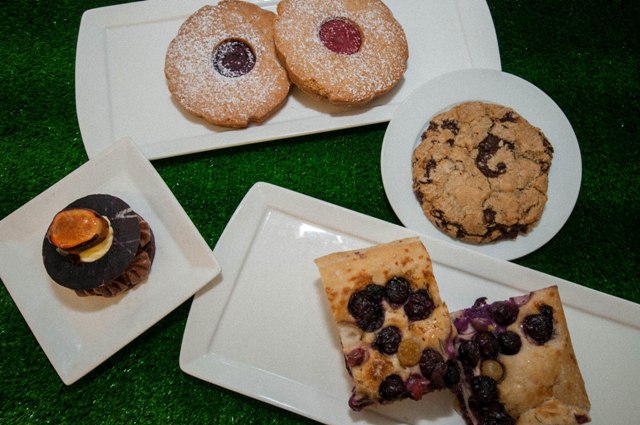 2017 Pastryland items
---
FAQs
Why do I need to select a specific timed entry?
Due to capacity limations of the space, we need to control for the flow of guests throughout the day.
Do I need to go at the beginning of my entry time?
Your entry time is good until the next entry time. So please feel free to come by anytime within that window.
I came to the first Pastryland. What can I expect different this year?
Since each chef creates a unique item, we'll definitely see new and exciting food. It's up to each chef -- so anything is possible!
Where there be places to consume these delicious items?
Like a traditional bake sale, all food items are prepackaged in "to-go" containers for your enjoyment at home. A convenient shopping bag will be provided for free, so that you can carry as many products as you want.
Which chefs are participating?
Our last bake sale had some of New York's finest pastry chefs participate. We are constantly adding new chefs to the list, so check the website for the lastest confirmations.
What's the refund policy?
Unfortunately, there is a strict no-refund policy for this event. For specific issues, please contact pastryplus@culinarycenter.com
How else can I support Hot Bread Kitchen?
Please check out their website and if you want to contribute more, feel free to provide a general donation to the bake sale under Tickets. All proceeds will be donated to Hot Bread Kitchen.