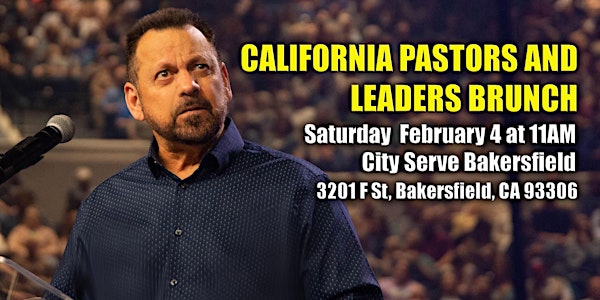 Pastors and Leaders of California Brunch
I have a message of fire and encouragement for you on how to defeat the onslaught of the left on our faith and see a mass harvest of souls.
When and where
Location
3201 F St 3201 F Street Bakersfield, CA 93301
About this event
The last election emboldened California's ruling party. For them, it was a green light to enlarge their war on Christian organizations, businesses, leaders, and families.
They mean to silence us.
Satan is using this onslaught to try to put crippling fear, discouragement, and confusion upon pastors and Christian leaders.
What we need now transcends political activism. Yes, we must vote. Yes, we must confront and expose the lies of the socialist Left. But the time has come to go beyond that. We must turn to the supernatural power of God to answer this threat. Demonic strongholds cannot be voted out or debated away.
It is time to turn hearts to God on a massive scale. I have a message for you: "Come and hear this message and receive fire from heaven."
We must also seek the weapons of God that are mighty for the tearing down of strongholds. Then, and only then, can we drive back the demonic power that grips California.