Location
100 N College Dr
100 North College Drive
Franklin, VA 23851
United States
Description
Help us Celebrate the ministry of our Pastor, Rev Dwight Shawrod Riddick, II who has served the First Baptist Church and Franklin Community for 10 Years! (Click Get tickets to: Sow Personally, Get a Ministry/Business Ad and Get Banquet Ticket)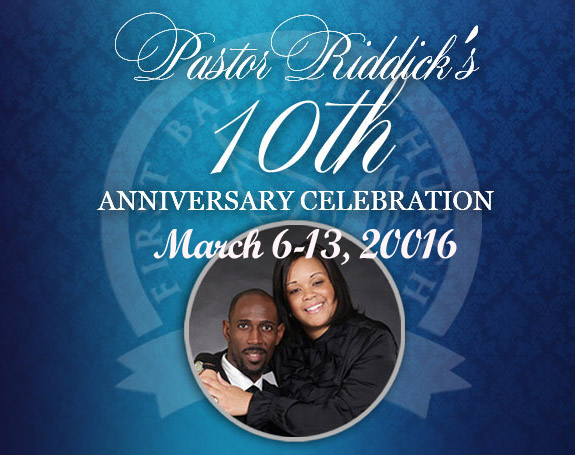 The Anniversary Committee is excited to announce the Tenth Anniversary Celebration of our Pastor, Rev. D. Shawrod Riddick II.
We are a community church rich in history and strong in showing the Love of Jesus Christ. This year our 2016 church theme is "Growing Up" – Hebrews 6:1-3. What better way to grow and serve God than by His Word - 1 Thessalonians 5:12-13 – "And now, friends, we ask you to honor those leaders who work so hard for you, who have been given the responsibility of urging and guiding you along in your obedience. Overwhelm them with appreciation and love" (The Message).
We are asking for a love donation of $100.00. We ask that you would submit your donation by March 4th. You may donate here online or please make checks payable to First Baptist Church. (Mail to: First Baptist 318 Hall St Franklin, VA 23851) If you have any additional questions, please contact the church office at 757-562-7158 or by email at JesusSaves@firstbcfranklin.org.
Special events planned for the celebration are:

1. Three nights of worship, praising God, and powerful preaching from dynamic pastors .
March 8th – 10th, 2016 - The celebration will begin nightly @ 7pm.
March 8 - Tribute Through Music & Arts
March 9 - Pastor Lance Watson
March 10 - Pastor Alvin Boone
March 13 - Pastor Dwight Riddick, Sr.
2. Saturday, March 12th @ 5pm–Formal Banquet @ PDCCC Workforce Development Ctr. (Tickets $35)
3. Sunday, March 13 th @ 3pm, The Reverend Dr. Dwight Riddick I and Gethsemane Baptist Church, Newport News, VA will be our special guest to culminate the Celebration.
Pastor's Anniversary at First Baptist is a time to honor the man that God has chosen to lead us, a time to build unity around the church's ministry vision and because OUR pastor deserves it! God is the great Encourager. He encourages pastors by His Word and by the support and love expressed to them by individual Christians. (Acts 28:15; 2 Tim. 1:16-18) Thank you for sharing with us in this celebration.
Sincerely,
Pastor's Anniversary Committee