Register to watch 20+ Zoom event recordings of Neon Speaks 2020, a celebration of neon art, design, and vintage neon signs.
About this Event
Watch recordings of the Neon Speaks Festival & Symposium 2020, bringing together neon advocates, artists, and preservationists to celebrate and share information. Our mission is education and advocacy for the artistic legacy of neon: a brilliant archive of design, craft, and community history.
Passport holders gain access to all recorded events. Suggested donation $10–$40, sliding scale. You can also add-on a donation for a Neon Speaks T Shirt, limited supply.
View the complete schedule at neonspeaks.org and/or download a print-at-home-schedule.
Sliding Scale Registration for an all-event virtual passport is available and recordings can be accessed on a private YouTube playlist through January 3, 2021.
What to expect: virtual tours, symposium speakers, the return of the Neon Curiosity Lounge with neon artists and makers, behind-the-scenes at neon museums, film screenings, book fair, and more.
This is our first online festival, thanks in advance for your understanding if there are some bumps or goofs as we figure out the online event challenges.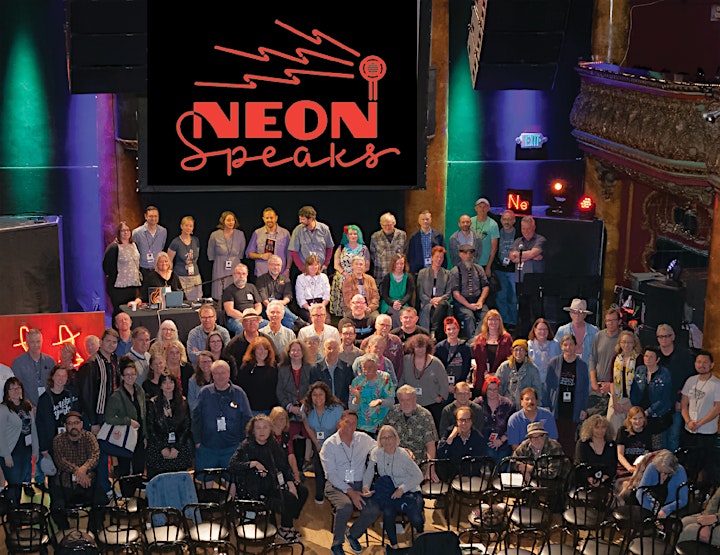 Neon Speaks presenters and and attendees last year at the Great American Music Hall in San Francisco. Photo by Paula Wirth.
Symposium Panelists and Speakers
Adolfo Nodal, Habana Light Neon Signs, Havana, Cuba
Ani Mnatsakanyan, Museum of Neon Art (MONA), Glendale
Corky Scholl, Save the Signs, Denver
Dean Blazek , Neon ABC Alphabet pattern books, Wisconsin and Michael Blazek, Neon, the Next Generation, Brisbane, Australia
Dydia DeLyser & Paul Greenstein, Neon, a Light History, Los Angeles
Eric Bednarski, "NEON" Warsaw, Poland
Eric Lynxwiler, Museum of Neon Art (MONA), Glendale
James and Karla Murray, Store Front: The Disappearing Face of New York, Store Front II-A History Preserved New York Nights, New York City
Kate Widdows, PDX Neon, Portland
Katie Conry, Tenderloin Museum, San Francisco
Kody Shafer, Neon Spectacular, Osaka, Japan
Letreiro Galeria Projecta, Rita Múrias and Paulo Barata Corrêa, Lisbon, Portugal
Martin Treu, Signs, Streets, and Storefronts, Chicago
Michael Lipman, Why Neon Glows, TED Ed, San Francisco
Len Davidson Neon Museum of Philadelphia, Philadelphia
Preservation Action Council, San Jose
Signs United, Will Hansen, Steve Spiegel, Los Angeles
Stephen Coles, Letterform Archive, San Francisco
Stephanie Cisneros, SF City Planning Department, San Francisco
Tod Swormstedt, American Sign Museum, Cincinnati
Tom Rinaldi, New York Neon , New York City
Yanis Correto, Hopeless Nostalgic, New York City
Neon Curiosity Lounge Panelists and Speakers
View the complete schedule with descriptions at neonspeaks.org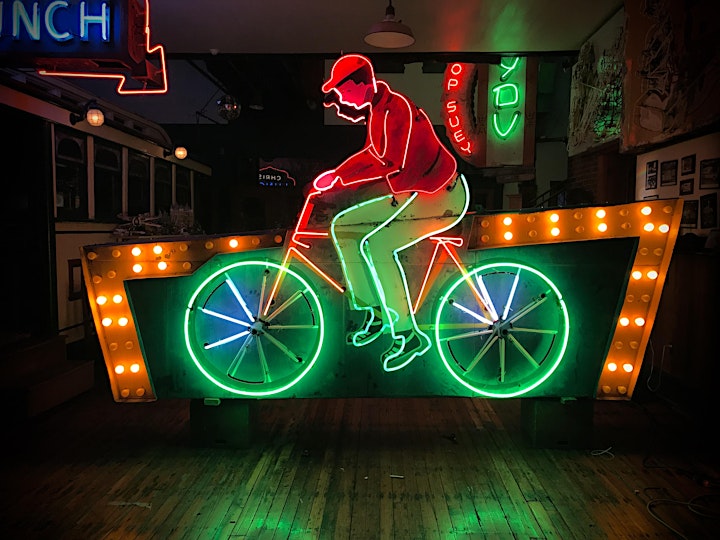 Castro Theater Marquee, SF: photo by Al Barna: Bicyclist photo courtesy/collection of Williams Neon. Katz's Deli, NYC: photo by Al Barna. Owl Cafe, Cloverdale, CA: photo by Randall Ann Homan.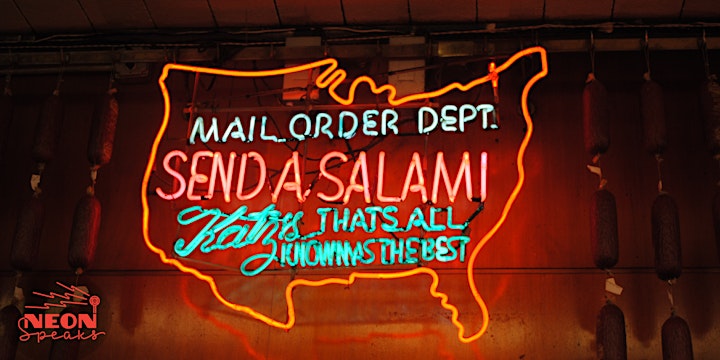 About NEON SPEAKS 2020 Online Home Edition
After months of shelter-in-place, it is obvious that Neon Speaks 2020 should temporarily move to an online platform and that social distancing during COVID-19 is the way to go:
1) Neon Speaks is all about camaraderie, networking, sharing experiences, and movement-building; which happens best in person. We will endeavor to bring that spirit to your home screen.
2) The upside of an online festival is the potential to bring together a larger group of preservationists, including those who can't easily traipse across a bridge, hop on a plane, or cruise down the highway to San Francisco and join this crowd of like-minded people.
3) There will be a schedule of both morning and evening events to accommodate multiple time zones.
4) This year the events will be spread over two weekends to avoid marathon screen fatigue.
5) Stay tuned for details including announcements of symposium speakers, exhibitors, behind-the-scenes tours, history tours, book fair, film screenings, and more.
6) We hope you are all staying safe and well, masked up, and protecting each other during the pandemic.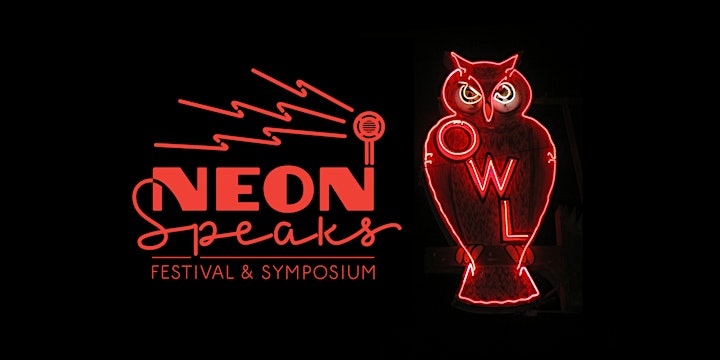 Neon Speaks is produced by Al Barna and Randall Ann Homan of San Francisco Neon in proud partnership with the Tenderloin Museum and the Museum of Neon Art. Neon Speaks is funded by loyal sponsors and by grants from SF Heritage and the National Trust of Historic Preservation. Thank you.
Find out how to donate as a sponsor for 2020 if you are interested in supporting Neon Speaks via the Tenderloin Museum/501(c)(3).
FAQs
How do I get the Zoom link to join this event?
Zoom link to join will be sent via an email from Eventbrite on the morning of the event to those who registered. Be sure to join the Zoom webinar 10 minutes early. If you have trouble joining, try restarting your Zoom app.
Is it OK to share the Zoom link with a friend?
Instead of sharing the Zoom link, please ask friends to register so that we have an accurate count of attendees.
Can I purchase neon books, pins, and t-shirts like last year?
Yes. In September and October there will be a virtual Neon Speaks Book Fair hosted by SF Neon and the Museum of Neon Art with a curated list of books and other neon-related items .
Terms & Conditions
Registration and passports are being handled through Eventbrite.com. Confirmation of your purchase will be sent upon completion of registration via email. The day of the event, Eventbrite will send you a reminder email with a link to join the event online. If you do not see confirmation in your inbox, please check your spam folder. If you have any questions please contact us at neonspeaks@gmail.com for assistance.
Most events will be photographed and possibly live streamed and recorded. By registering or accepting a ticket to this conference you are granting your explicit permission to be photographed, videotaped, and published.
In the unlikely case of cancellation of Neon Speaks recordings due to unforeseen circumstance, Neon Speaks and San Francisco Neon will not be responsible for expenses incurred by passport holders.
Due to the COVID-19 pandemic, there may be last minute changes to schedule and participants.
Still have questions? Contact the organizers, Al and Randall Ann, at neonspeaks@gmail.com.