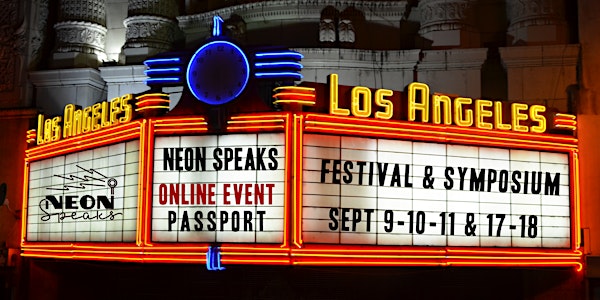 Passport to Online and Recorded Events: Neon Speaks 2022
Register for a Recorded Events Passport to watch on YouTube, and watch the finale online event live on Zoom Sunday Sept 18!
About this event
Neon Speaks Festival and Symposium has an illuminating program for you that will bring you deeper into the fold of the international neon community. Explore the online/in-person schedule and register. Watch the live event with the Warsaw Neon Muzeum on Sunday Sept 18, and view last weekend's recorded events through 2022.
Whether you have been curious about the noble gas from witnessing neon's singular glow in the city's characteristic fog, or you are a preservationist ready to go hands-on in a restoration project, find your people at Neon Speaks this year.
2022 Schedule of Online Events at a glance:
Sept 9 | Friday | Intro to Neon: Beginning to See the Light
6:00 pm - 8:45 pm Pacific | "NEON" documentary with director Lawrence Johnston, Melbourne
A watch party for a rare screening of the 2017 documentary feature film "NEON", featuring many neon experts familiar to the Neon Speaks attendees (Tom Rinaldi, Debra Jane Seltzer, Tod Swormstedt, etc.). This film is visually stunning with excellent interviews and a jazzy soundtrack. If you are new to Neon Speaks, this is the event to find out what the neon buzz is all about. Followed by a Q&A with director Lawerence Johnston, live from Australia!
Sept 10 | Saturday | Neon Speaks Online Symposium
9:15 am Pacific | Behind the Scenes: LUMI Neon Museum/Nick Vedros, Kansas City
10:15 am Pacific | Art of Neon: Sarah Blood, neon artist and educator, Alfred, NY
11:15 am Pacific | Neon Preservation Forum, a panel of people on the frontlines to rescue vintage neon including Kiah McCarly of SF Shines, Paul Greenstein and Dydia DeLyser, Neon Makers Guild (Danielle James, Eve Hoyt, and Nick McKnight) and Portugal's Letreiro Galleria
5:00 pm Pacific | Oakland-East Bay Neon Matchbook Typography Tour with SF Neon and Stephen Coles of the Letterform Archive with Al Barna and Randall Ann Homan of SF Neon.
7:00 pm Pacific | Tour of Mid-Modern Neon in Brisbane, Australia with Michael Blazek
Sept 18 | Sunday | FESTIVAL FINALE: An Insider's Look at the Neon Muzeum, Warsaw
11:00 am–12:00 pm PDT Sunday, September 18, 2022
This end-of the-festival event is a presentation by David Hill that features a fascinating story about a particular chapter in neon history: the beautiful cold-war era neon signs that illuminated Warsaw. Many of these neon signs were saved by museum directors David Hill and Ilona Karwinska. David and Ilona will be hand for a live Q&A session with hosts Al Barna and Randall Ann Homan to wrap up this international festival for 2022.
All passport holders will receive reminder emails with Zoom links to join on the day of online events. All Zoom events will be recorded and available for passport holders to watch until January 2023.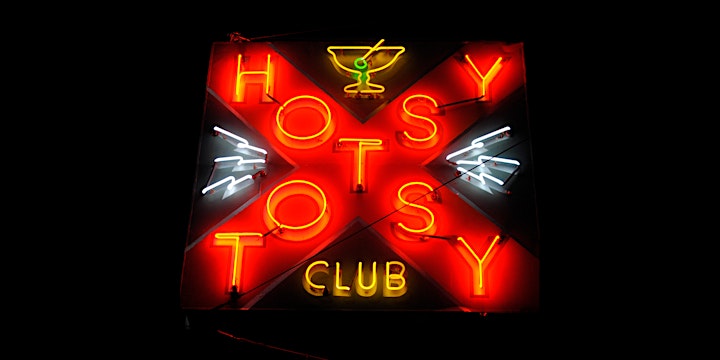 2022 Indoor/Outdoor Events
For indoor/outdoor events, masks required indoors. Get tickets soon, these events will sell out!
Banner photo of the Los Angeles Theater and the Hotsy Totsy Club photo above by Al Barna. Owl photo below by Randall Homan, the owl is still in place in Cloverdale, CA, but is no longer illuminated.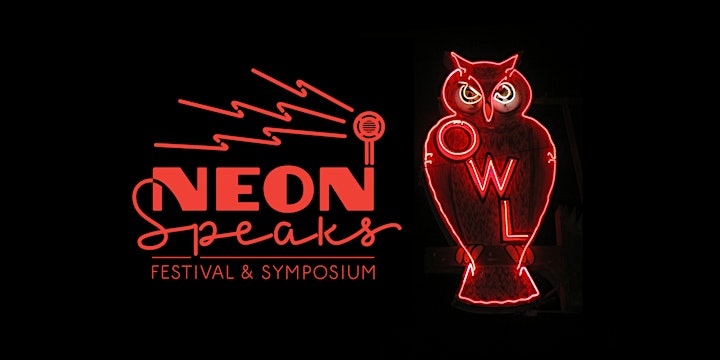 About NEON SPEAKS 2022
1) Neon Speaks is all about camaraderie, networking, sharing experiences, and movement-building; which happens best in person. We endeavor to bring that spirit to your home screen for two days of online events. This year two days of in-person events in Oakland and Glendale, CA.
2) The upside of an online symposium is the potential to bring together an international group of preservationists, including those who can't easily traipse across a bridge, hop on a plane, or cruise down the highway to San join this crowd of like-minded people. After 2+ years of social distancing, we are looking forward to meeting in-person with Neon Speaks friends at in-person events that require a separate ticket. Indoor events may be relocated or cancelled due to COVID safety conditions. Masks and vaccinations may be required due to COVID safety precautions.
3) There will be online programming for both morning and evening events to accommodate multiple time zones. Online events will be recorded for passport holders to watch on YouTube after the scheduled event.
4) Events are spread over two weekends to avoid marathon screen fatigue.
5) We hope you are all well and protecting each other as we go down the road, hopefully, to a peaceful and COVID-free world.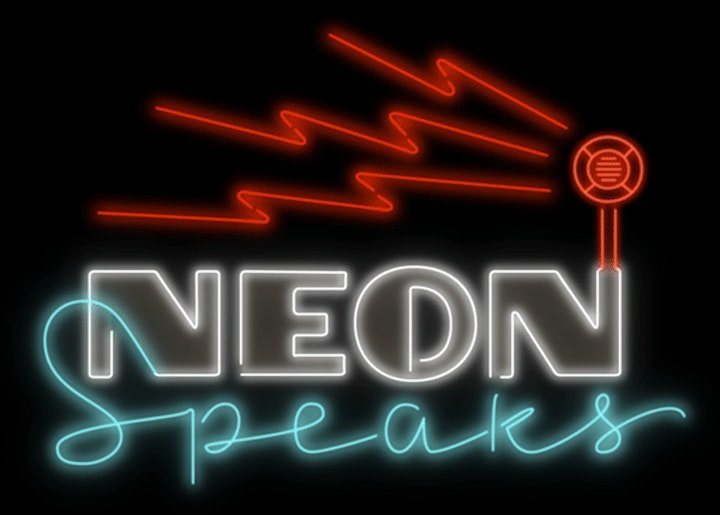 Neon Speaks is produced by Al Barna and Randall Ann Homan of San Francisco Neon in proud partnership with the Tenderloin Museum and the Museum of Neon Art. Neon Speaks 2022 is funded by loyal sponsors and ticket donations Thank you.
FAQs
How do I get the link to join events?
The link to access the online events will be sent via an email from Eventbrite.
Can I watch recordings of the virtual events on YouTube later?
Yes. Passport holders will get an email with links to a playlist of recorded events. Recordings will be posted roughly 24 hours after the event.
Is it OK to share the YouTube link with a friend?
Instead of sharing the events link, please ask friends to register so that we have an accurate count of participants, this helps us when applying for grants.
Can I purchase neon books, pins, and t-shirts like last year?
Yes. You'll find pins, books, and t-hsirts at sfneon.org/store with a curated list of books and other neon-related items .
Terms & Conditions
Registration and access to recordings are being handled through Eventbrite.com. Confirmation of your purchase will be sent upon completion of registration via email.
In the unlikely case of cancellation of Neon Speaks recordings due to unforeseen circumstance, Neon Speaks and San Francisco Neon will not be responsible for expenses incurred by passport holders.
Still have questions? Contact the organizers, Al and Randall Ann, at neonspeaks@gmail.com.
Neon Speaks logo lettering and animation by Kate Widdows.