PASSOVER HOTELS 2019 PESACH KOSHER PROGRAMS EUROPE SPAIN 2019
Description
A Wonderful Pesach 2019 at The Best Negresco Spa **** Salou Costa Dorada Spain
The Perfect Glatt Kosher Passover Vacation 5779 in Europe

#pesach2019 #passover 2019 #olamholidays
UK +44 (0) 203 318 2194 USA +1 (0) 646 975 94 58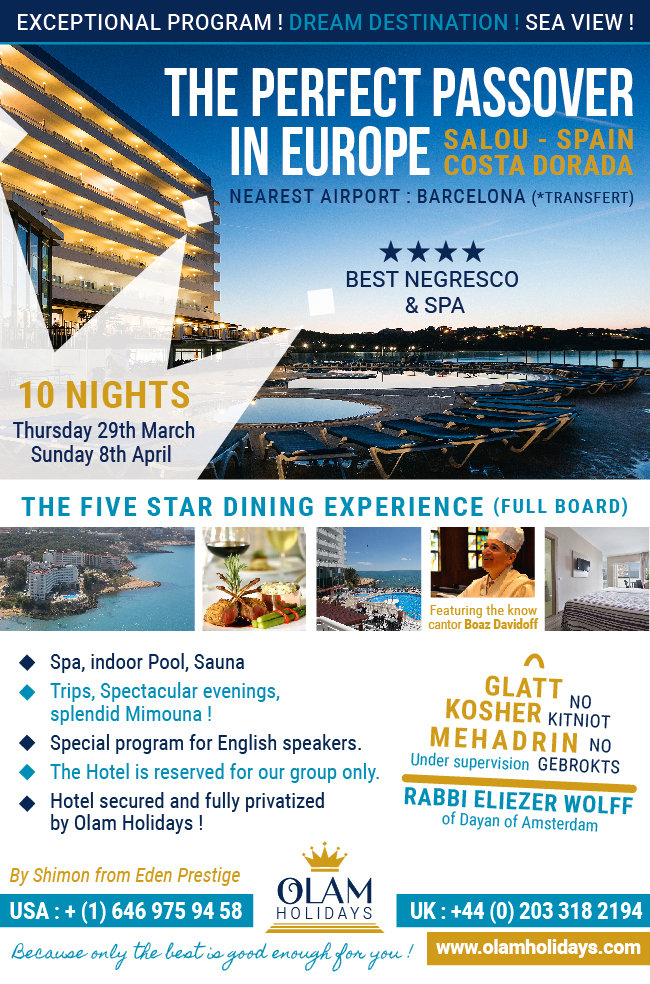 Exceptional Program! Dream Destination! Sea View !
Direct flights from major European capitals to Barcelona Aiport.
The Warmest Passover 2019 in Europe .
Enjoy the unique opportunity to celebrate Passover holiday in the idyllic setting of a beautiful destination.
Accommodations:




Full board- 3 meals a day, Tea room, wine & drink bar and other treats throughout the entire day.




The vacation package includes:


10 nights, 13 Nissan-23 Nissan,
April 18-April 28, 2019.
Arrive like a guest and leave like family !
« Glatt Kosher LeMehadrin » No kitniot,No Gebrocht Shmura Matza.
Leave us to take care of you!
Join

Olam Holidays

with your family to enjoy a warm and festive holiday!
Let Kosher Pesach 2019 be a relaxing experience for you and your loved ones in addition to a trip you will all remember.
''Because only the BEST is good enough for you!"