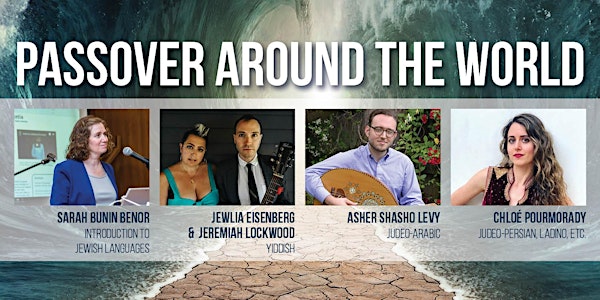 Passover Around the World: A Multimedia Concert
Description
This multimedia concert features The Four Questions, Min Hametzar, Chad Gadya, and other Passover songs in multiple languages, arranged in traditional and contemporary styles and performed by renowned musicians Jewlia Eisenberg and Jeremiah Lockwood (Yiddish), Asher Shasho Levy (Judeo-Arabic, Syrian Hebrew), and Chloe Pourmorady (Ladino, Bukharian/Judeo-Tajik, Persian Hebrew). The event will also include an engaging introduction to endangered Jewish languages – from Jewish Neo-Aramaic to Judeo-Tat – by Hebrew Union College Professor Sarah Bunin Benor. And a grand finale of Who Knows One? in Ladino and Jewish English featuring singers from ucLADINO's Kantigas Muestras and HUC.
COVID-19 UPDATE, 3/12/20: The event will still happen through video access. A Zoom link will be provided to anyone who has purchased tickets. You'll hear the same wonderful music and learn the same interesting information about Jewish languages. And the performers will be available afterwards for a virtual meet-and-greet / Q&A. The full ($25) and senior/student ($15) ticket prices will enable you to receive a glossy printed haggadah supplement and a delightful tote bag featuring "Happy Passover" in 14 Jewish languages. The $10 ticket will give you access to the video of the event after March 16.
The original event was to include a raffle of books about Passover and Jewish languages/cultures, as well as some whimsical tea from The Tea Book. This raffle is now available online, and anyone can participate (whether or not you purchase tickets to the concert): https://go.rallyup.com/jewishlanguages.
Let's continue to support the arts, even during these scary times.
If you have questions, please email Sarah Bunin Benor at sbenor@huc.edu.