Passive House for Multifamily Buildings (Workshop & Reception)
Description
Join the Passive House Alliance Chicago and USGBC-Illinois for a half-day event to help kick-start multifamily passive house projects in Chicago!

Passive Buildings offer superior energy performance while improving occupant comfort by focusing on optimization of the envelope. For multiunit residential buildings this 'sweet-spot' can be just above code requirements thus making Passive House Certification readily achievable. And developers in NYC are leading the way with major Passive House developments. Join us as two of the leaders in this field will highlight recent projects and share their lessons learned.
3.0 GBCI and AIA LU/HSW available pending approval.
Agenda:
1:00 - 1:30 PM Registration & Networking
1:30 - 5:00 PM Presentations & Discussion
5:00 - 7:00 PM Networking Reception & Passive House Meet-up

Presenters: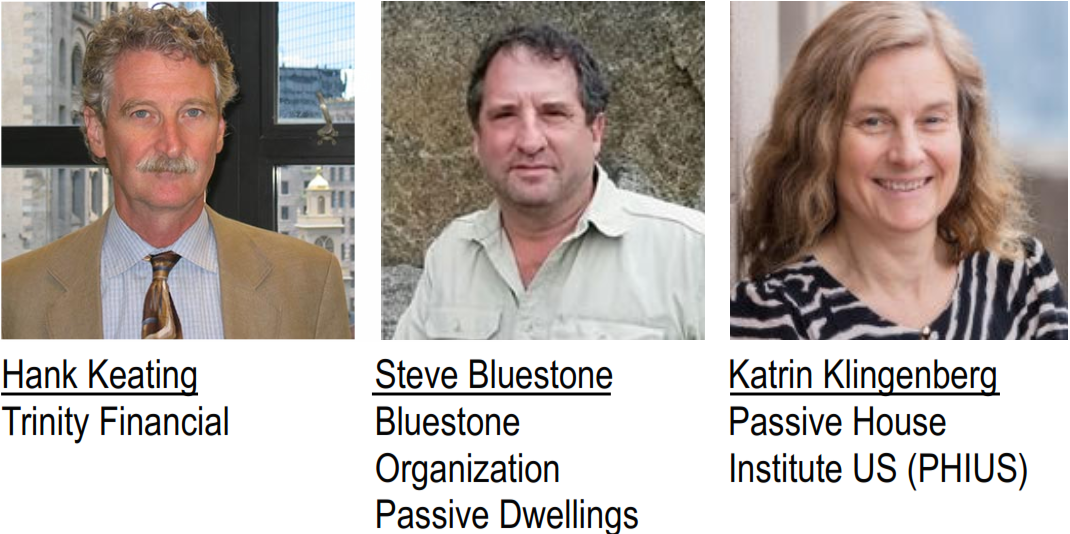 Presenter Bios:
Hank Keating, AIA, is a registered architect with more than 30 years of experience in the design and construction of residential developments. Recently retired from Trinity Financial, (but consulting back on select projects) Mr Keating completed over nine affordable housing developments totaling over 1500 units in Massachusetts, Rhode Island, Connecticut and New York City while at Trinity. For the last 10 years Mr Keating has been engaged with the Passive House movement and designed and completed a passive house for himself while pushing to move Trinity's large scale affordable projects toward the Passive House Standards.
Steve Bluestone, founder of Passive Dwellings, has worked as a developer, general contractor, and property manager, producing thousands of units of housing and tens of thousands of square feet of retail space. Whether working on single-family homes or very large mixed-use apartment buildings, he has helped produce structures that have reduced energy consumption by 90% and more, others that are net zero, and some that are energy-positive. He has been an industry leader in energy efficiency for decades and continues to pursue his passion of researching new products and systems and introducing innovative building methods. Steve recently shifted gears in a big way. He is now manufacturing a new Passive House level prefabricated wall panel system using insulated concrete forms (www.icfpanels.com) that is proving itself to be a major game changer. Incorporating a relatively little known rebar replacement product (www.helixrebar) into the panels is allowing him to offer up the absolutely lowest cost, strongest, and fastest system for building envelopes available in the market.
Katrin Klingenberg is the executive director of the Passive House Institute US (PHIUS). PHIUS is an organization committed to making high-performance passive building the mainstream market standard. Katrin began her career in architecture with Murphy/Jahn in Chicago, Illinois. She then worked for the architecture firm Solomon Cordwell Buenz in Chicago. In 2002, she started her own firm and became a registered architect in Germany. In 2007, Katrin co-founded the Passive House Institute US to work on education. She is the executive and the lead instructor for the PHIUS Certified Passive House Consultant (CPHC) training. She also directs the technical and research programs at PHIUS which has trained over 2,000 architects, engineers, energy consultants, energy raters and builders in passive building standards. PHIUS has become the leading passive building research and information provider in North America.
_____________________________
Thank you to our event sponsors!