Description
I've extended the online sales until 2:00pm! After that tickets will be available at the door only, for $20/seat!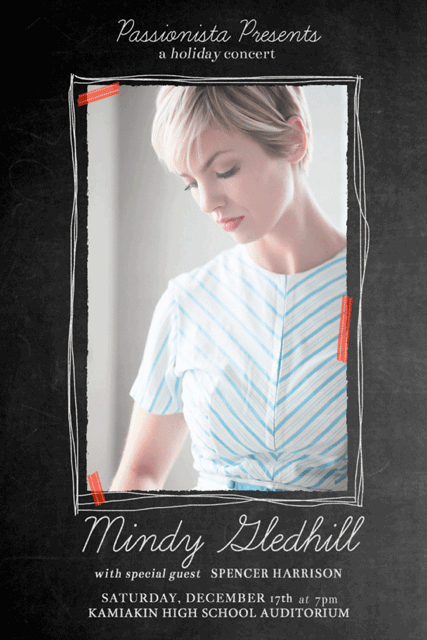 Passionista Presents is excited to welcome back singer/songwriter Mindy Gledhill. Fresh off the release of her recent Christmas album, Winter Moon, Mindy will charm the audience with her whimsical style and beautiful melodies.
Please join us for this special holiday concert on
Saturday, December 17th at 7:00pm
in the Kamiakin High School Auditorium.
Advance ticket prices are $15, and tickets will be available at the door for an increased rate of $20.

Get your tickets early!
Seating is on a first come, first serve basis and doors will open at 6pm.
No food or drink is allowed in the Auditorium.
Gather the children around and watch Mindy's whimsical "Winter Moon" video
For questions, please contact: passionistapresents@gmail.com
Please read all of the General Admission details above.
*Artwork designed by Lindsay Stoyan
**Photography by Jefra Starr Linn