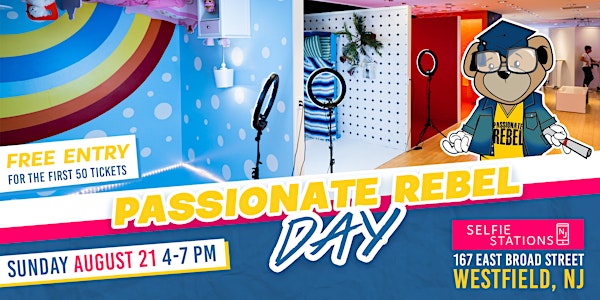 Passionate Rebel Day
Passionate Rebel Day! Celebrating 8 years of Passionate Rebel! First 50 tickets get free entry!
When and where
Location
Selfie Stations NJ 167 East Broad Street Westfield, NJ 07090
About this event
In celebration of Passionate Rebel's 8-year recognition, join us Sunday, August 21, 2022, from 4pm-7pm for a day of fun and celebration.
This event is hosted by the Passionate Rebel Foundation, in partnership with the Selfie Station NJ.
Come out and take selfies in front of cool backdrops, flick it up with Boogie the Passionate Rebel bear, and enjoy cool refreshments catered by the Pretzel Factory!
First 50 tickets get free entry! Once free tickets are sold out you will be able to pay upon entrance on the day of the event!
Passionate Rebel Foundation is a 501(c)(3) non profit organization in Plainfield, NJ (EIN: 85-4101106).
To donate email us at passionaterebelllc@gmail.com.