Description
Do you need to deliver presentations as part of your job ?

Who doesn't!
Are you in a sales or a business development role?
Are you a speaker, author, coach or expert who
wants to spread their message to the world?


What happens when an International Award Winning Speaker, Coach & Author teams up with the World's Leading Expert on Presentology?

This seminar teaches you Presentology secrets of creating winning presentations & delivering them with passion using an efficient & effective 2-track system that took years of experience in the industry to develop.
Moustafa & John have around 40 years of experience in between both of them and they will share everything they know with you!



A: Presentology with John Quinn


Learn the secret to creating presentations like-you've-never-seen-it-before and void the death-by-bullet-point syndrome.
Template Design: learn how to design simple presentation template and load effective content using infographic style coupled with interesting animations

Typography & Fonts: learn how to treat bulleted lists and format them as infographics

Amazing Imagery: learn where to find free of charge imagery and also how to remove the picture backgrounds from images this greatly enhancing presentations

Animation & Timing: See the latest animation techniques in PowerPoint with real-world examples

Presentology Technology: learn the latest event & presentation technology solutions from electronic voting to the lates event apps for presenters: Powtoon, Prezi, Pecha Kucha as well as others.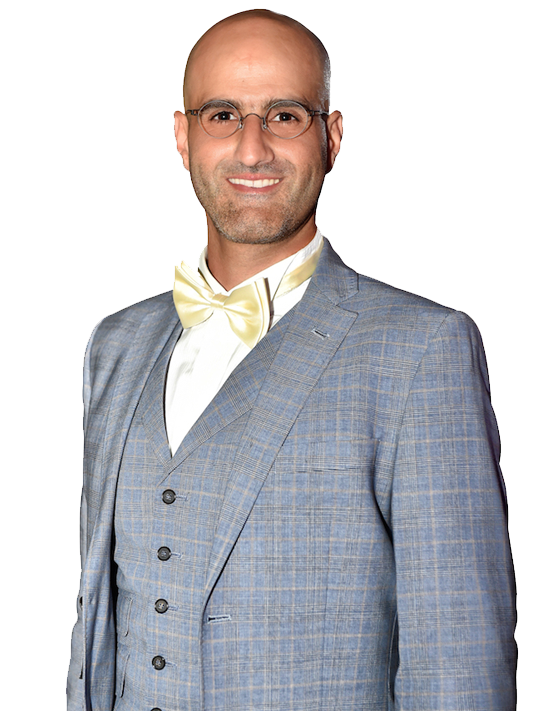 B. Presenting with Passion with Moustafa Hamwi


Learn the secrets of delivering with so much passion that you take your audience on an emotional journey much like an unforgettable movie does.
Get the passion, connect to your purpose: Your purpose is your anchor, Learn how to quickly connect to it and then use it to anchor all other elements of your presentation skills

Find your signature delivery style: Every world-class presenter has a signature style, learn to develop yours

Storytelling secrets: Learn how to crate compelling stories & analogies that take people on an emotional journey much like a great unforgettable movie does

Master body language & tone of voice: these represent over 90% of your communications (only 7% is goes to the actual words) need we say more!

Handling tough Q&As: learn to handle these without allowing your presentation to be derailed nor evading in a forceful manner that will alienate you.

Get to YES!: Its all about closing the deal at the end of the presentation, learn how to get your audience to say a big YES by the end of your presentation.
Do you want to learn the secrets of creating winning

presentations & delivering them with passion?
Attend this FREE seminar to learn how!
---


Moustafa Hamwi
Award Winning Speaker, Coach & Author

Moustafa is an award winning Speaker, Coach & Author and is the world's leading expert on the topic Passion, he has achieved in one year what took others 20 years to achieve in this industry simply due to his ability to deliver with unparalleled level of passion when he is on stage

"I have not met a more passionate person in my life, I would love to bottle up how he does it"
- Vice President, International People Operations - Google

Moustafa's talks are described as highly energetic, insightful and engaging" and are guaranteed to give you a dose of passion that lasts way beyond the event, he has spoken to audiences of up to 3,000 people in one event, his recent HSBC Ambition Talks video got over 400,000 cumulative views on Facebook.
He has been successfully working with leaders, experts, authors and even other speakers to help them transform their speaking style.
He is regularly invited on TV shows like Stars of Science on MBC as a speaking & presenting mentor bring immediate transformation live on camera to people who have not even been on stage before!
He has been so successful at helping hundreds of people to present & speak with passion that was invited to the Asia Professional Speakers Summit in 2017 to present to them how to become passionate speakers.
John Quinn
Award Winning Presentologist
Raised and Educated in Ireland, John Quinn arrived in the United Arab Emirates in 1996 determined to make the difference between presentations that fall flat, and that 'seal the deal'. After several years with Gearhouse & Philips Middle East he started Satellite in Dubai Media City in 2001 and then expanded the operation to Dubai Silicon Oasis in 2010.
In 2015, John added www.audiencealive.com service to his worldwide portfolio and expanded his business to cover Australia and NZ. See www.audiencealive.co.nz for AudienceAlive NZ.
Since 2001, John has provided custom presentation services for over 500 local and international clients resulting in over 25000 slides and too many bullet points to count! John's creativity and professional design experience will result in an effective presentation with impact.
---
Do you want to learn the secrets of creating winning

presentations & delivering them with passion?
Attend this FREE seminar to learn how!