Description
Are You An Aspiring or New Entrepreneur?
Do you have a passion, skill, talent, or hobby?

Are you an expert in your field?

Tired of the long hours, too little pay, and not feeling valued on your current job?

Dreaming of the day when you can quit that 9 to 5 J.O.B. and do what you love?

Want to start a business as a consultant, coach, speaker, or sell a product or service?

Is your business at a stand still?
Have you been in business for a few months and want a refresher?
Stop dreaming about it. Stop working hard. Work smart! Working for someone else will never pay enough nor provide the time to follow your passion! Now you can prepare for the day when you can say, "Goodbye day job! Hello, dream job!" Start living your dream.
How to Plan & JumpStart Your Dream Business in 4 Weeks


Get started creating your future, or new act:
Prepare to exit your day job for your dream job

Be your own boss

Work your own hours and be thrilled to do it

Attract clients who need your products or services

Pay your own salary

Work from home or wherever you deem appropriate
Is it easy? Heck no! But it sure is worth it when you're driven to follow your passion.
My 4Ps framework to entrepreneurship will guide you step-by-step through what you need to do to turn your passion into a profitable business. Don't miss this opportunity to jumpstart your dream business Today!


THE 4 WEEK PLAN

This is a 4-part training. 2-hour sessions will be presented each week.
Each week, the step-by-step sessions will move you closer to your goal by providing information needed that will build forward and lead into the next week. Wonder no more about the when, why, or how to get it done. The right plan puts the roadmap at your fingertips. The 4Ps to All-Star Entrepreneurship will be revealed fully in this 4-week training. Here's a glimpse of what you will learn:
Week 1:

What's Your

Passion? Crystal Clear Clarity Counts
There's more to starting a business than just a good idea. You need clarity and a business that serves the need of clients. You need to know if your passion or idea is right for business. It's not a business if you can't earn enough money to pay the bills and pay yourself.
Discover what you're actually capable of and be inspired to pursue your dream:
Determine if your passion can sustain long-term business success

What's your persona for entrepreneurship – and is your desire strong enough?

Do you have the aptitude for business success?

Checklists are Checkpoints

Avoid distractions and drop the dream drainers/stealers/killers

Dig deeper to ensure clarity
At the end of the first week, you will be clear on your vision and why a decision is critical to moving forward, as well as how to overcome any fear and drop all dream drainers in your path.
Week 2:
Get Prepared with Structure. You've Got to Have It
Once you've clarified your vision, you'll need to create the structure for success:
Determine which legal structure is the right fit for your business

What's your prevention and sustainability plan?

Fit the puzzle pieces together at the start to avoid confusion and overwhelm later

What about your taxes? Learn to handle your finances properly

Business banking, and what you need to get set up

Every business must have a written plan

Workspace or Workplace? Do you require flexibility or stability?
Start with your end in mind. Build a business that will earn money and thrive. Whether or not you're a thriving or failing business, your taxes matter. Week 2 will help you get it right the first time!
Week 3:
Create a Purposeful Plan
You need an action plan. In week 3, we'll share what's needed to build a reliable infrastructure for your business. The session will include platforms, tools, and resources such as your website, business cards, email lists, social media, funding, finding the right clients, and more:
Learn the 3 traits of a professional image that sells. Want to be a pro? Then know what sells

Gain confidence. Excuses are not good enough – neither are fear, doubt, and indecision

Learn the common mistakes made by start-ups, and how to avoid them.

Learn tips on Business Branding and how to create yours

Find your perfect client

Test the market to determine the selling power of your product or service

Find balance in your business
Week 3 will move you from vision to reality. If you build it, the only way to profit is to share it with the world. Next, find out how.
Week 4:
Turn Your Passion-Plan into Profits.
Execute!
No more dreaming. It's time to put your dream to the test:
Keeping track of your business activities

You must do this daily

Stand out from your competitors

Build a funnel to meet client needs and continue profits

Automating your business is a time saver and a life saver

Know when it's time to hire help

Having a balanced work schedule prevents burnout

Maintain a positive attitude, and why it's important

Have the right tools for continued success
Ready to Get Started? Now is Your Time!
Retake Your Power and Control! Claim your spot TODAY…


It's Affordably Priced!
ONLY $49 for each session (Pay in Full and SAVE More!)
Start building your dream business. Don't hesitate. Don't talk yourself out of it again. Don't miss this opportunity to say yes to you. Let's make your dream a reality. To complete the training, be sure to register for the full 4 weeks, or pay as you go. Register now.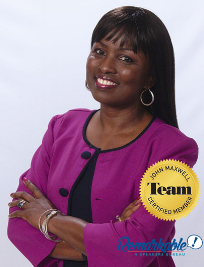 Pat B. Freeman, Presenter
---
ABOUT THE PRESENTER
Pat B. Freeman (aka The Dream Builder) is a Women's Leadership Empowerment Coach, Inspirational Speaker, and Vision-Builder. She is a John Maxwell certified speaker and coach, author, serial entrepreneur, and Founder of the EMPOWER 7000 initiative -- a project to empower 7000 women and girls in 2017. Pat is passionate about empowering women to achieve their Big Dreams in leadership, career development, and personal growth. Her mission is to help turn your "Inspiration into Action and Passion into Profits.
Pat is the President of NAPW Greensboro Chapter (National Association of Professional Women) – over 850,000 members nationwide. She has more than 20 years as an Administrator of Adult Education in the Community College System where she oversaw 125 faculty and staff and approximately 3,500 students annually under her leadership. She is experienced in program and staff development, preparing adults for academic success, and creating sustainable career paths. Pat is a Certified Program Planner (CPP) with LERN, Lean Six Sigma certified (Yellow Belt), holds a Master's Degree from Campbell University, and earned her B.A. Degree from Florida State University. Pat is also the proud mother of two young adult sons who were kid entrepreneurs from age 10-16.
FAQs
Where can I contact the organizer with any questions?
pat@patbfreeman.com
Why do you have 5 weeks listed in the registration area if the training is only 4 weeks?
There is No session on Week 4, November 23rd due to the Thanksgiving Holiday. Week 4 session will be October 30.