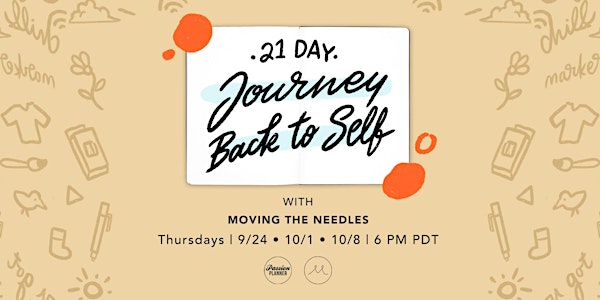 Passion Planner x Moving the Needles: The 21-Day Journey Back to Self
By providing tools to improve people's lives, Passion Planner & Moving the Needles presents "The 21-Day Journey Back to Self" series.
Refund Policy
Contact the organizer to request a refund.
Eventbrite's fee is nonrefundable.
About this event
Passion Planner and Moving the Needles (MtN) present a three-part workshop series, "The 21-Day Journey Back to Self". Many, if not all of us, have been affected by the global pandemic. During this unprecedented time where we are dealing with overwhelming uncertainties, it is more important than ever to equip ourselves with the skills to adjust, cope, and make sure we are still living fully.
In all three workshops, we invite you to come on a journey with us to center yourself through writing and reflection. You will:
Ground down with a guided meditation
Write independently on a prompt of your choice
Share collectively and connect with fellow #PashFam
Part 1: Decluttering Your Mind (September 24, 2020; 6 pm PDT)
With the pandemic affecting each of us differently, it's important to find space to declutter our minds and find ways to feel at ease. By identifying the old and what's not working, we make space for new, infinite possibilities. Prompts and guiding questions will invite you to do some "spring cleaning" for your mind and create a fresh start.
Part 2: Exploring Your Passions (October 1, 2020; 6 pm PDT)
In this workshop, we offer you an invitation to (re)connect with your passions. Discovering your passion is not a static process, but rather, dynamic and ever-evolving. Today's workshop will include prompts that will help you tap into what you enjoy doing. We will utilize Passion Planner's "Passion Roadmap" to not only explore your passions, but to also create written affirmations for your goals and progress.
Part 3: Self-Care (October 8, 2020; 6 pm PDT)
To fulfill our personal aspirations, we need to make sure we nourish our minds and bodies by taking care of ourselves! In the last workshop of this series, the writing prompts and discussion will encourage you to explore how you can manage your mental wellness and build a routine for self-care.
What we hope you'll gain:
A renewed sense of self
Inspiration for unlimited possibilities
An experience of being with a supportive and loving community
A habit of using journaling and writing for daily introspection and self-care
Passion Planner is a minority-owned, female-led company that is dedicated to building a world where everyone has access to the tools and community they need to live an authentic and fulfilling life. Their products have brought together a global community of over one million inspiring goal-getters and unique self-starters, also known as the #PashFam, who are focusing on what really matters and creating the life they have always wanted.
Moving the Needles is a global platform and community, dedicated to using words and writing as a vehicle of change. Through writing and exploring words, we aspire to empower change at all levels, from the self to society. We offer several online writing programs, for example, "Writing Veranda" and "Wellness Writing," both of which aim to inspire participants to write creatively and reflectively in a safe and welcoming environment. Just as you would take care of your body by going to the gym and eating well, it is also important to take care of and nourish your mind. More than anything, Moving the Needles is a community, and we invite you to join us in healing through your words. Learn more about Moving the Needles here: https://www.movingtheneedles.org/
FAQs
I want to be there but I won't be able to make it during that time! Will it be recorded?
Yes! All ticket holders will receive a secret link to a recording of the workshop they attend within a week after the workshop.
I want to attend but cannot afford it, are there any discounts?
We offer a sliding scale for ticket donations. This is a donation-based event where proceeds will go to Moving the Needles. Unfortunately, discounted tickets are sold out.
Is there a limited amount of tickets?
Zoom caps us out at 1000 people.
What will I need for this workshop?
Feel free to click through the links above to access the necessary PDFs for each workshop.