Description
There are many people with a VISION, but not everyone is Executing their VISION. It takes a Different kind of person Execute the VISION.
Do YOU have a VISION, but lack the clarity to execute YOUR VISION?
Are YOU Different?
It's time for YOU to come off the sidelines and start Pursing Your Passion in a Godly Fashion.
Have you felt that rumbling in your spirit urging you to do more?
Better yet do YOU have a VISION and you're not sure how it will come to FRUITION?
Then YOU need to be at this Passion Party
What YOU Will Create
*Vision Board aligned to your spiritual and natural goals
*Vision Board Road Map
What You Will Recieve
*Digital Download of the PYPGF Business Plan
*How to start a digital brand
*Top apps for getting stuff done on the run
*Insight on how to run a B.O.S.S. (Built on Spiritual Success) Brand
*Tactics to demolish doubt and fear
*Performance by inspiration author and poet Whitney McNulty (Total Bonus Prepare to be Blessed)
*Performance by gospel singer Jah'Leah Gibbs (Bring a sheet to cover your legs 'cause y'all going to be on the floor)
*A copy of Pursuing Your Passion in a Godly Fashion: Prayers for Creative Christians and Entrepreneurs by Nigeria Lockley
For My VIPS
Talk is cheap and ain't nobody got time for that. Instead talking about how you need a new mindset in an intimate MasterClass Tamika Howze will lead you in the creation of a B.R.A.V.E™ Mind and B.R.A.V.E™ Life
If you have decided that 2017 will be the year that your book baby is born then join, best selling, award winning author, Nigeria Lockley for a writing and publishing MasterClass.
You will also walk away with:
*A copy of Pursuing Your Passion ina Godly Fashion: Prayers for Creative Christians and Entrepreneurs by Nigeria Lockley
*A copy of The B.R.A.V.E Life: What to do When Life Knocks the Faith Out of You
*Passion and Purpose Planner
Who is Takima Howze?
Takima Howze is a writer, inspirational speaker and the founder of The B.R.A.V.E. Life™. Takima is passionate about transfomring people's lives through her words and stories of triumphs through trials. Takima is a Master Workshop facilitator who teaches her participants how to look into the mirrors of self and push past the Fear, Struggle & Frustration to become Bold, Resilient, Authentic, Victorious, & Empowered in their Lives!
Catch up with Takima before the event www.takimahwrites.com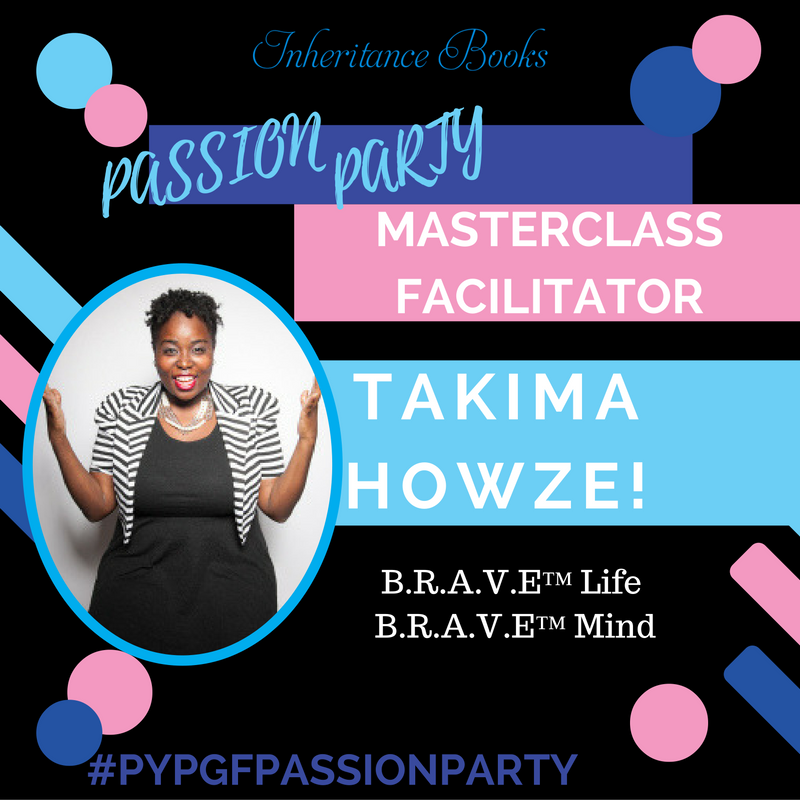 Who is Nigeria Lockley?
Nigeria Lockley is a passion and purpose pusher. After achieving every author's dream--a coveted publishing deal, and then losing it she launched, Inheritance Books. Now she works viciously to not only share her faith through her writing, but ensure that every Christian creative and entrepreneur she comes in contact with is ready to #getyourInheritance. When she's not writing Nigeria can be found hanging in Harlem with her husband and two daughters.
Keep up with Nigeria before the event www.nigerialockley.com
Who is Whitney McNulty?
Whitney McNulty is an author, educator, choreographer, mental health advocate and empowerment speaker. Her recently published book of poetry, Awakenings is more than a literary work-- it is a call to action. It challenges readers to get "unstuck:" to get out of that rut, dark hole, that depression, that anxiety or that constant feeling of mediocrity and just LIVE. Awakenings dares you to look beyond your own perception of darkness in order to live a healthier, more ABUNDANT life filled with light and love. By sharing her story, she hopes to encourage others to actively seek self-acceptance, tend to their spiritual needs and choose not to just exist but THRIVE. Whitney is currently a dual youth ministry leader, holds a M.A. in General/Experimental Psychology, has training in Applied Behavior Analysis and is excited to be launching her Awakenings Accountability & Empowerment Coaching Services in January 2017.

Get to know Whitney www.whitneymcnulty.com