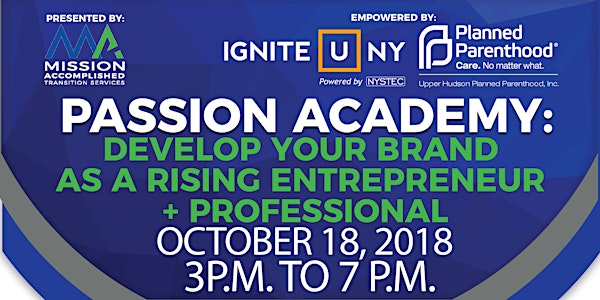 Passion Academy: Develop Your Brand as a Rising Entrepreneur + Professional
By Mission Accomplished Transition Services, Inc.
When and where
Date and time
Thursday, October 18, 2018 · 3 - 7pm EDT
Location
IgniteU 3rd Floor 333 Broadway Troy, NY 12180
Description
Join Mission Accomplished Transition Services Chief Coach + Founder, Carmen "Coach Carmen" Duncan Bob Manasier, as they host the ninth part of the Passion Academy mini-conference series.
Session Theme - Tap into branding strategies that will help advance your career.
This FREE event is exclusively for rising entrepreneurs + young professionals age 18-24 from around the Capital Region.
This event will include free dinner, raffles and the opportunity to meet + network with influential professionals.
Coach Carmen is a social entrepreneur and the Chief Coach+ Founder of Mission Accomplished Transition Services (Mission Accomplished). Carmen established the organization in 2012 with a vision to create a professional and personal development resource that recognizes the potential and power of aspiring young professionals in high school, college, trade school and students who do not desire to engage in traditional higher education but are self-directed learners who lead their own educational path. She joined the journey of social entrepreneurship with a clear agenda to motivate aspiring young professionals to: define their life's purpose, take ownership of their life journey, gain a better understanding of their worth and power, discover the inherent valuable skills they will offer to the global workforce, identify and utilize resources to help them meet their goals and connect them to employment, pursue higher education and other meaningful resources that promote them as qualified, skilled candidates.
Through her leadership, Mission Accomplished is able to challenge the status quo and break barriers with and for aspiring young professionals. As the organization grows she is committed to ensuring the business model is sustainable and scalable.
Bob Manasier is a serial entrepreneur and brand builder, with experience in over 130 international startups and over 400 products/services commercialized, 1000s of acceleration/commercialization campaigns, as the CEO of In Focus Brands (a branded go-to-market acceleration firm). In addition to In Focus, Robert currently serves as Entrepreneur-in-Residence of the NYS Innovation HotSpot Program, UAlbany Innovation Center, IgniteU NY and the Sage Colleges; Managing Director of the EDA Fund and the Diamond Point Co-Development Fund; Chief Strategy Officer for the SaaS firm: The CrowdBuild; Board Member for Autonomy Distributors and Parkhurst Field Foundation and President of IFP Films, EDA Labs and Empire Custom. He also currently serves as Saratoga Springs Sports Tourism Chair and Saratoga Springs Recreation Commission Member.
With over $100M raised for startups, an average of 20—25% uptick in revenue for his acceleration clients, over $1B in sales and a 2.6x return on his management of the DPCD Fund and a nearly 100% retention of staff over decades, strong culture creation and fiscal controls are coupled with clear and direct revenue results.
About the organizer
Mission Accomplished Transition Services (Mission Accomplished), Inc. mission is prepare aspiring young professionals for the global economy by providing access to industry specific coaching, job training and professional development.