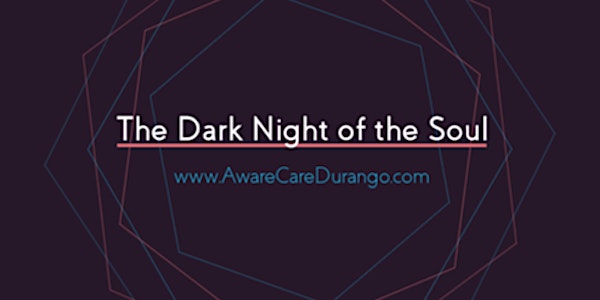 Passing Through the Dark Night of the Soul
Join us for an interactive and experiential on-line workshop.
Date and time
Thursday, April 6 · 5 - 7pm PDT
Refund Policy
Contact the organizer to request a refund.
Eventbrite's fee is nonrefundable.
About this event
The dark night of the soul is a time of pain, sorrow, and depression that leads to soul growth. It is a time of intense self-reflection and understanding. Not pleasant. But powerful.
We will explore the purpose of the dark night of the soul. We will learn the 4 types of fears at the root of the dark night of the soul. And we will practice light hypnosis to explore your successful passing through the dark night. You will leave the workshop with a clear understanding of the internal work needed for you to successfully pass through the dark night of the soul.
Participant Reviews from Prior "Passing Through the Dark Night of the Soul" Workshops
I have faced 3 major shifts through trauma in my life and the workshop validified this and confirmed I am on the right path. I have been able to move on from these traumas knowing they have been dealt with. The workshop has given me the tools to move forward with some skills towards life coaching. This is a technique I wish to use alongside QHHT.
Holly created an atmosphere where I felt safe examining things I need to work on. I'm so glad I attended the workshop. I learned a lot of new ideas to think about and felt afterwards like I'm a few steps closer to my True North. Self-reflection and healing have been like an unbroken trail and Holly is giving me the tools to forge a path. She presents things in a way that just makes sense to me. Up to this point I feel like I've been working harder rather than smarter trying to pull out the emotional muck accumulated in my fifty years of life. I have fresh eyes and new hope with which to carry on in my journey of achieving peace and happiness.
It was my first time doing this workshop and it was a very positive, eye opening, informative experience. I came away with a lot of specific things I can be focusing on, and I definitely will look for the next (same) workshop as I intend to participate in it again! Positive, needed soul development !
About the organizer
With a focus on holistic mental health, Holly is certified at the highest level as a Practitioner of Quantum Healing Hypnosis Technique (QHHT®), an hypnosis modality which integrates spiritual, physical and emotional healing. Holly was trained by Dolores Cannon and has a achieved her top level certification with Julia Cannon. She is devoted to practicing exactly as Dolores did. Additionally, Holly uses her own methodology, Higher Self Integration to help her clients learn how to live with ego-self and Higher-self dancing together. She is also a certified "Existential Therapist". Through her practice she has witnessed wonder-full psychological, social, and physical healing.