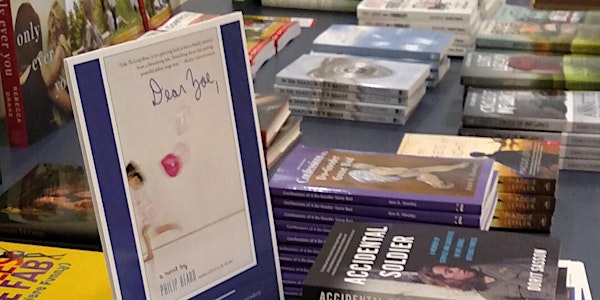 Passages & Prose 2017: A Gathering of Authors & Their Books
When and where
Location
Twentieth Century Club 4201 Bigelow Boulevard Pittsburgh, PA 15213
Description
PASSAGES & PROSE 2017
---
PATRON SPONSOR



---
DETAILS
Passages & Prose 2017: A Gathering of Authors & Their Books is an annual literary event hosted by author and lecturer Lillie Leonardi.
Now in its third year, Passages & Prose 2017 will take place Saturday, October 7, 2017 from 10:00 a.m. - 4:00 p.m. in Pittsburgh's historic Oakland neighborhood at The Twentieth Century Club and feature more than 50 local and national authors throughout the day. The event is open, FREE to the public, and family - friendly. Registration is suggested.
Passages & Prose 2017 will feature:
- 2017 WQED Writers Contest Winners

- and more!
Lunch options will be available for a fee. Details to be announced soon.

Please find additional details at: www.passagesandprose.com
Interested guests may also register for the Passages & Prose 2017 Preview, a new event being held on Friday, October 6, 2017 from 6:30 - 8:30 p.m. at Settlers Ridge - Barnes & Noble Booksellers.
---
PARKING
The Twentieth Century Club refers its members and Club guests to two parking facilities an easy half block and a full block from the Club.
Guests may park at:
- Soldiers & Sailors Memorial: This garage is located one half block to the south on Bigelow Blvd.

- UPMC Parking Garage: This garage is located 1 block to the east of the Club at Bigelow Blvd. and Lytton Ave. adjoining the Wyndham's parking.

- Paid parking is also available on the street at meters. Download and use the Go Mobile PGH app now to pay and monitor your parking at these meters.
- Public transportation by bus is also available from PortAuthority. Find routes and schedules by using the "Neighborhood Search" tab and selecting "Oakland".
---
SPONSORS & COMMUNITY COLLABORATORS
Passages & Prose 2017 is made possible with generous support from sponsors including: Patron Sponsor UPMC Health Plan, Barnes & Noble Booksellers, Cribs For Kids, Embroidery from the Heart, Inspiring Lives Magazine, The Twentieth Century Club, and WQED Multimedia; and community collaborators including: Author J.D. Wylde, B.F. Jones Memorial Library, Cooper-Siegel Community Library, Characters by Kim, Pittsburgh Mercy Health System Operation Safety Net, Pittsburgh Puppet Works, Shaler North Hills Library, Springdale Free Public Library, and Word Association Publishers.
---
PLANNING COMMITTEE
- Ann Andrews – BF Jones Memorial Library
- Selina Blinn – Barnes & Noble Booksellers
- Dana Faletti – Author
- Bridget Gaussa – Cribs For Kids
- Colleen Hennigan – Author
- Michelle Imler – WQED Edu
- Beth Lawry – Shaler North Hills Library
- Lillie Leonardi – Author & Passages & Prose Founder
- Gina Masciola – WQED Edu
- Jill McConnell – Cooper-Siegel Community Library
- Maria Rose Pisano – Passages & Prose Director of Marketing
- Ellen Roth – Author
- Cori Wamsley – Author
- Joyce Wilk – Author