Pass The Beauty Red Carpet Event! 2nd Annual Nashville AdultProm Benefiting...
Description
About the Pass the Beauty Annual Nashville Adult Prom One of the projects Pass the beauty produces is called the Nashville Adult Prom. The Nashville Adult Prom is an ongoing annual event that takes place at Lime Light Entertainment venue in downtown Nashville. The Adult Prom is a Red Carpet event for victims, survivors, supporters, sponsors alike who participate raising awareness of Domestic Violence and Bullying. The Adult Prom provides a Beautiful Red Carpet experience of Live Entertainment, Dinner, Dancing, and Door Prizes. It economically supports our participants.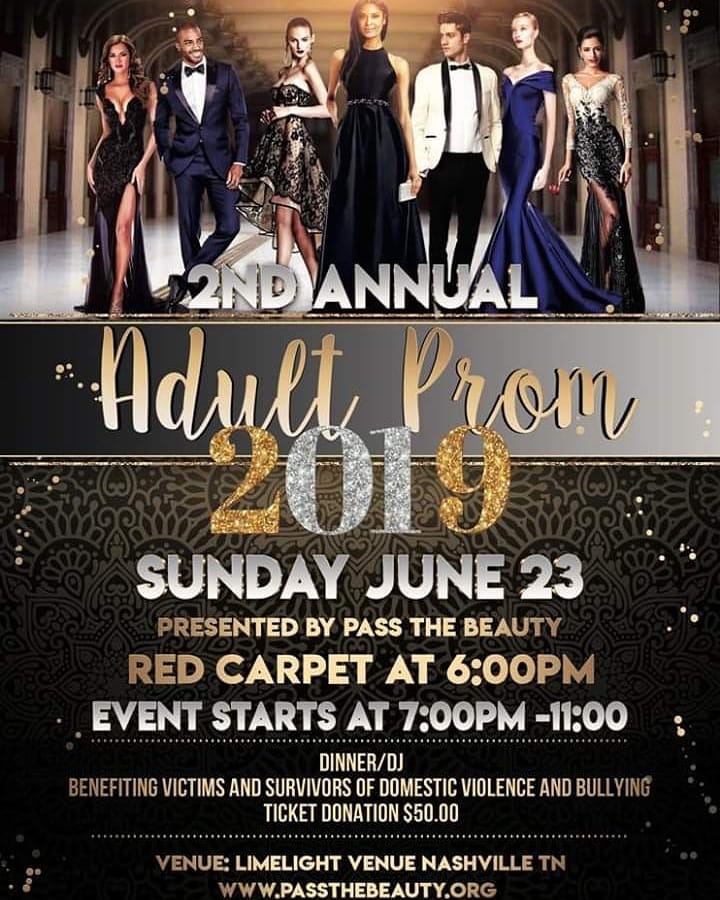 This project not only supports victims and survivors it also supports our Anti-Bully campaign with partner organization #Iaminvisible non-profit. Our organization provides supportive service, events and educational activities to increase understanding, acceptance and support for victims and survivors of domestic violence and bullying. Our goal is to continue to partner with, organizations and the community to improve the quality of life through art related activities for individuals who have been victimized. We are dedicated in supporting our participants by creating wonderful events and ongoing supportive services
Proceeds that are donated help support pass the beauty endeavor.
RED CARPET EVENT! Get Ready! Get Ready! Get Ready! For the 2 Annual Nashville Adult Prom! Date: Sunday, June 23rd Time: 7:00 pm-midnight
Formal Tickets: $50.00 per person Event Location: Limelight 201 Woodland St, Nashville, TN 37213 Dinner, Live Entertainment.A fundraiser event to benefit Victims and Survivors of Domestic Violence and Bullying Hosted by Pass The beauty Inc For tickets and Sponsorship contact 615.894.4943