"Pasolini Requiem": The 2nd Edition of this Bestselling Biography Presented by Author Barth David Schwartz

Wednesday, May 24, 2017 from 6:30 PM to 8:30 PM (CDT)
Event Details
Pasolini Requiem
(University of Chicago Press, 2017)
The 2nd Edition of this bestselling biograpy of one of the most important Italian intellectuals of the post–World War II era
presented by Author Barth David Schwartz 
Barth Schwartz will be introduced by Professor Armando Maggi,
University of Chicago
May 24th
at 6:30pm  NEW START TIME
Italian Cultural Institute
500 N Michigan Avenue, Suite 1450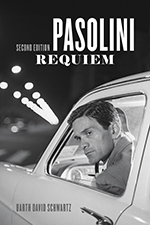 Author Barth David Schwartz will present the 2nd edition of the bestselling biography of one of the most important Italian intellectuals of the post–World War II era. This book was originally published by Pantheon in 1992.
Pier Paolo Pasolini (1922–75) was one of the most important Italian intellectuals of the post–World War II era. An astonishing polymath—poet, novelist, literary critic, political polemicist, screenwriter, and film director—he exerted profound influence on Italian culture up to his untimely death at the age of fifty-three. This revised edition of what the New York Times Book Review has called "the standard Pasolini biography" introduces the artist to a new generation of readers.

Based on extensive interviews with those who knew Pasolini, both friends and enemies, admirers and detractors, Pasolini Requiem chronicles his growth from poet in the provinces to Italy's leading "civil poet"; his flight to Rome in 1950; the scandalous success of his two novels and political writing; and his transition to film, where he started as a contributor to the golden age of Italian cinema and ended with the shocking Salò, or the 120 Days of Sodom. Pasolini's tragic and still unsolved murder has remained a subject of contentious debate for four decades. The enduring fascination with who committed the crime—and why—reflects his vital stature in Italy's political and social history.

Updated throughout and with a new afterword covering the efforts to reopen the investigation—and the legal maelstrom surrounding Pasolini's demise—this edition of Pasolini Requiem is a riveting account of one of the twentieth century's most controversial, ever-present iconoclasts.
Copies of the book will be available for sale. The author will be signing books following the presentation.
Barth David Schwartz, a Rhodes Scholar who earned degrees from Harvard College and Yale Law School, is a writer based in Baltimore, Maryland.
Free and open to the public.
When & Where

Italian Cultural Institute
500 N Michigan Ave
Suite 1450
Chicago, IL


Wednesday, May 24, 2017 from 6:30 PM to 8:30 PM (CDT)
Add to my calendar
Organizer
Italian Cultural Institute of Chicago
Italian Cultural Institute of Chicago
500 N Michigan Ave., Suite 1450
Chicago, IL 60611
Currently active in all the major cities of the five continents, the ninety Italian Cultural Institutes serve as an ideal meeting place for intellectuals, artists, and cultural operatives, as well as for ordinary citizens, both Italian and foreign, who wish to establish or maintain a relationship with our country. By acting not only as a showcase and source of current information on Italy, but also as a driving force behind initiatives and projects of cultural cooperation, the Italian Cultural Institute has become a focal point for both the Italian communities abroad and the growing demand for Italian culture throughout the world.

By extending the role of Embassies and Consulates, the Italian Cultural Institutes offer the most effective tools for promoting a worldwide image of Italy as a center of production, preservation, and dissemination of culture from the Classical Age until today. Along with organizing cultural events in a vast array of areas, including art, music, cinema, theatre, dance, fashion, design, and photography, the Italian Cultural Institutes:


Offer the opportunity to learn Italian language and culture through the organization of courses, the management of libraries and the preparation of educational and editorial materials;
Provide the networks and the premises to facilitate the integration of Italian operators in the process of cultural exchange and production at an international level;
Provide information and logistic support to public and private cultural operators, both Italian and foreign;
Continuously support initiatives aimed at promoting an intercultural dialogue based on the principles of democracy and international solidarity.
"Pasolini Requiem": The 2nd Edition of this Bestselling Biography Presented by Author Barth David Schwartz