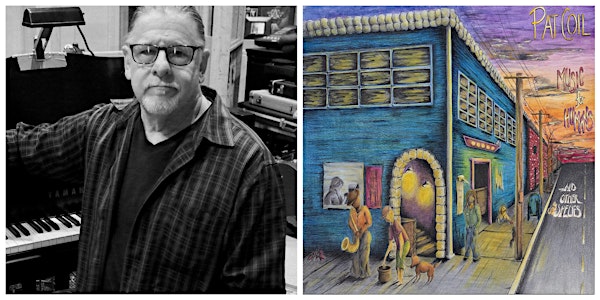 Pascal Le Boeuf Quintet feat. Steve Pardo & Jeff Coffin
Pascal Le Boeuf Quintet feat. Steve Pardo & Jeff Coffin
When and where
Location
Rudy's Jazz Room 809 Gleaves Street Nashville, TN 37203
About this event
Pascal Le Boeuf on piano, Jeff Coffin on tenor sax, Steve Pardo on alto sax, Ethan Jodziewicz on bass and Jordan Perlson on drums.
Described as "sleek, new" and "hyper-fluent" by the New York Times, Pascal Le Boeuf (he/him) is a Grammy-nominated composer, jazz pianist, and electronic artist whose works range from modern improvised music to hybridizing chamber music with production-based technology. Recent projects include commercial recordings and videos with JACK Quartet, Nu Deco Ensemble, Akropolis Reed Quintet, Christian Euman, Hub New Music, Barbora Kolářová, Todd Reynolds, Sara Caswell, Jessica Meyer, Nick Photinos, Four/Ten Media, Bec Plexus featuring Ian Chang (of Son Lux), Dayna Stephens, and Justin Brown. As a keyboardist, Pascal performed as support for D'Angelo's Black Messiah US tour and Clean Bandit's Rather Be tour with Australian pop artist Meg Mac. He actively performs and records with Le Boeuf Brothers, Friction Quartet, Allan Harris, and his piano trio "Pascal's Triangle" featuring bassist Linda May Han Oh, and drummer Justin Brown. He is currently an Assistant Professor of Practice in Music and Technology at the Vanderbilt University Blair School of Music, and a Harold W. Dodds Honorific Fellow and Ph.D. candidate in music composition at Princeton University.
Saxophonist Jeff Coffin is a member of Dave Matthews Band, teaches at Vanderbilt University, and is the founder of Ear Up Records - a progressive record label dedicated to improvisational music. His contributions to the Nashville jazz scene go back nearly 30 years and his devotion to improvisational music and music education is well documented. His 14 years with Bela Fleck & the Flecktones garnered him 3 Grammy awards and established him as a leading saxophonist of his generation.
Steve Pardo is a professional saxophone/woodwind/multi-instrumentalist, and composes rich soundtracks for a wide range of games and TV for both indie and AAA studios. On top of co-founding his audio and music team, SkewSound, Steve is known for his audio design leadership and inventions at video game studio Harmonix, impacting games and franchises such as Rock Band, Dance Central, and Fantasia: Music Evolved. Steve is actively involved in AI and machine-learning based generative music, and develops interactive music VR experiences with Trio VR.

This show is 21 and over only. All sales are final and we unfortunately cannot offer any refunds. Additional tickets may be available at the door on the day of the show even if it is sold out online.
Please try to arrive 15 minutes prior to the show start time. If you do not arrive within 45 minutes after the show start time on your ticket your seat may be resold to other patrons at the door. If you arrive after 45 minutes from the start time of the show and your ticket has been resold, although we cannot guarantee it, we will try our best to make space for you to attend the show.