Description
ONE-RAISER: RAISING LGBTQ AWARENESS AND FUNDS FOR THE WORKS OF ONE.
ONE celebrates young people and their unique footprint in this world no matter their orientation, sex, gender-identity, race, creed, or color.
Come to this night to celebrate each other...play some pool or ping, take a photo, have a mock-tail, listen to music then the Speakers...fill out a NO STUPID QUESTION card that the speakers will answer random and anonymously...then after being moved beyond measure dance to the DJ until the night ends.
The ticket is $25.00 If you can make an additional Donation - we are grateful - but it is NOT required. If you can't afford the ticket just call us - if we have tickets left you will be in there. 888.852.2201


If you do not know the works of ONE in the community and on campuses, please visit our website www.1recovery.com.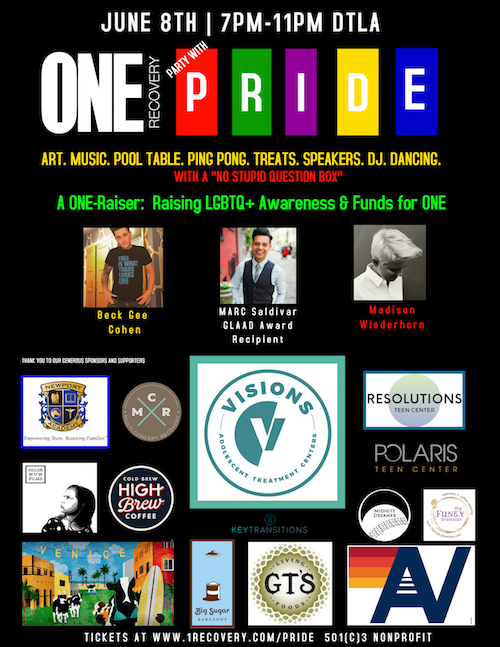 THE NIGHT.
7:00PM – 8:00PM

Reception. Meet our Sponsors & Speakers

Step & Repeat Photo

Listen to Music

Bid on Silent Art Auction

View Young People's Art Installations

Play in the Game Room. Radiate. Educate

Visit the Community Lounge

Eat. Treat. Connect.

Fill out an LGBTQ No Stupid Question Card...because there is none
8:00PM – 9:00PM

Introduction by ONE Founder, Lynne Pedersen

Shout out from MAIN Sponsor

Our prolific and incredible LGBTQ Speakers take to the floor to tell the Story of Them…who they are in this world and the steps it took to arrive there

Beck Gee Cohen. Advocate. International Speaker. Master's level clinician with an undergraduate degree in Sociology specializing in Gender & Sexuality, and a Master's Degree in Addiction Counseling. Beck is the director of business development at La Fuente Hollywood and an associate consultant at The Romeyn Collective. Beck is a force and an agent of change. Blessed.

Madison Wiederhorn. Philanthropist. Musician. DJ. Director at Fat Brands. Maddie is active in causes that are true to her pure and generous heart. She is a light that shines bright by virtue of just being and is an inspiration to our youth. We are so grateful for her involvement with ONE.

Marc Saldivar, GLAAD Media Award recipient. Queer. Latinx. First-generation American. USC Graduate. Writer. Strategist. Facebook. Huffington Post in senior management started as Arianna's associate editor. Hillary for America Campaign content strategist. Honored and SUPER EXCITED to have this talented soul on our platform to raise awareness and the roof!!

Dr. Don Grant will pick from the No Stupid Questions box for the speakers...that should be an event within itself!
9:00PM – 11:00PM
Raffle. PARTY. Dancing. DJ. Games. Connection.
CALL 888.852.2201 or Inquire@1recovery.com

ONE RECOVERY 501 (C) 3
Thank you Visions Adolescent Treatment Center for sponsoring the Game ROOM!
Thank you to all of our kind and generous supporters and sponsors.
Multi-Concept Recovery will be hosting the Lounge.
Newport Academy is a proud sponsor of the Green Room for our speakers and special guests.
Ben & Jerry's Venice Art Auction Donation.
Aviator Nation. GT'S Kombucha. High Brew Cold Brew
Polaris Teen Center: VIPs Resolution Teen Center.
Romeyn Collective. Key Transitions.
Illuminar LLC. Sailor Eve-Films. Sol Skin.