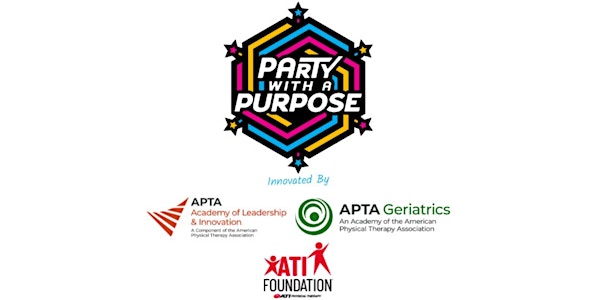 Party With a Purpose
The inaugural "Party With A Purpose" generously hosted by APTA Geriatrics, APTA Academy of Leadership and Innovation and ATI Foundation
When and where
Location
The New Children's Museum 200 West Island Avenue San Diego, CA 92101
About this event
The goal of our profession is to transform society.
At our annual Combined Sections Meeting we come together and have an opportunity to learn and change.
Party with a Purpose is the event that allows us to create that transformation.
Your ticket gives you all access to a night of purpose while at CSM.
We have taken over THE NEW MUSEUM (a premier children's museum) directly across the street from CSM.
✅ Touch and Play museum exhibits
✅ Food - San Diego flavored menu
✅ Drinks - Top Shelf Bar - Cocktails - Wine - Pints
✅ Dessert - Wrap up with an Ice Cream Sandwich Bar
✅ Speakeasy - VIP Speakeasy on-site
The purpose of the party is to transform society. And we are doing that with your ticket donations. Funds raised will go to help support 3 deserving organizations -
One More Wave - Empowering veterans to find healing through surfing. Providing wounded and disabled veterans with customized surfing equipment and a community to surf with.
APTA Geriatrics Fund - The APTA Geriatrics Fund support scholarships for future geriatric researchers and aging-specific research grants to help improve PT for older adults through the Foundation for Physical Therapy Research.
ATI Foundation - ATI Foundation was created as a way for ATI employees and patients to give back to the communities in which they live, work, and serve. From 2003 to 2020, the ATI Foundation raised more than $4 million to make a meaningful impact in the lives of nearly 4,500 children with physical impairments.
THANK YOU TO OUR EVENT SPONSORS:
LEADER SPONSORS:
APTA Academy of Leadership and Innovation
APTA Geriatrics
ATI Foundation
ALLY SPONSORS:
APTA Academy of Orthopaedic Physical Therapy
NetHealth
Owens Recovery Science
Performance PT