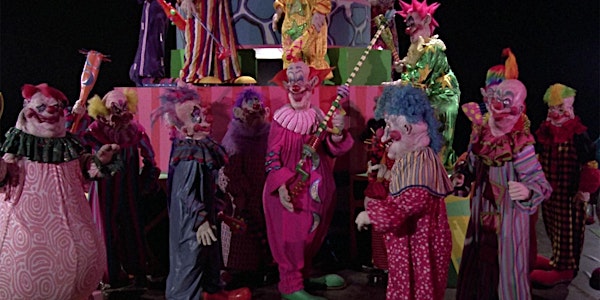 PARTY HORROR CINEMA
The lecture will explores how these films wake us up to our current experiences of ritual, celebration, horror and temporality.
By The Miskatonic Institute of Horror Studies
Date and time
Starts on Tuesday, April 4 · 4:30pm PDT
About this event
1 hour 30 minutes

Mobile eTicket
The horror genre is filled with parties, carnivals, clowns, festivals, and other spaces and figures of celebration and humor. Using examples from contemporary horror cinema and television as well as various philosophical texts on ritual, carnival, and temporality – this workshop will track moments of celebration, fun, and sacred wildness, as well as instances of carnival becoming crypt, when waking-up becomes hypnosis, and when contained chaos becomes unleashed mayhem. We'll also ask how these films might help us examine our own experience of celebration, horror, ambiguity, and temporality during times of digitization and lack of ritual. When does the dazzling light of the carnival become never-ending trance? When does time's out-of-jointness create terror? When and how does celebration become a site of horror?
There will be an introduction to the topic, and definitions of carnival, festival, and party. We will trace the moments in select films when celebration turns into something else – confusion, horror, hypnosis. And Russo will speak about our current cultural and temporal moment, lack of rituals, and the "permanent carnival" that many theorists claim we're in, using the texts of Walter Benjamin, Byung-Chul Han, and Sianne Ngai and Lauren Berlant. How do these films wake us up to our current experiences of ritual, celebration, horror, and temporality?
List of films/TV to be referenced:
Killer Klowns from Outer Space (1988)
It (1990)
Suicide Squad (2016)
Clown (2016)
The Joker (2019)
Carnivale (2003-2005)
The Funhouse (1981)
Climax (2019)
Texts to be referenced:
"Comedy Has Issues" by Lauren Berlant and Sianne Ngai
"Celebration and Madness" from Helene Cixous's Newly Born Woman
"For Your Unpleasure: The Hauteur-Couture of Goth" by Mark Fisher
The Disappearance of Rituals by Byung-Chul Han
"Capitalism as Religion" by Walter Benjamin
Selected writings on carnival and grotesque by Mikhail Bakhtin
Selected writings on festival by Nietzsche and Georges Bataille
About the Instructor
Emmalea Russo's poetry and writings on film and visual art have appeared in many venues including Artforum, BOMB, Granta, Compact, Return, and Los Angeles Review of Books. Her most recent book of poetry is Confetti (Hyperidean Press, 2022). She has taught courses on literature, philosophy, and film at Northeastern University, GCAS, The Home School, Saint Peter's University, and elsewhere.
--
Please note that your ticket is good for the live broadcast of this lecture, so please be sure you are available at the time and time zone the classes are being offered in before registering. All sales are final, and we will not give refunds to people who miss classes because of the time zones, and changes in time from daylight saving to standard. This info is below, but if you are ever unsure, a quick way to check is the Miskatonic website (www.miskatonicinstitute.com).
About the organizer
The Miskatonic Institute of Horror Studies is an international educational community through which established horror writers, directors, scholars and curators celebrate horror history and culture with a unique blend of enthusiasm and critical perspective. We have regular classes in London, New York and Los Angeles, as well as hosting special events worldwide.