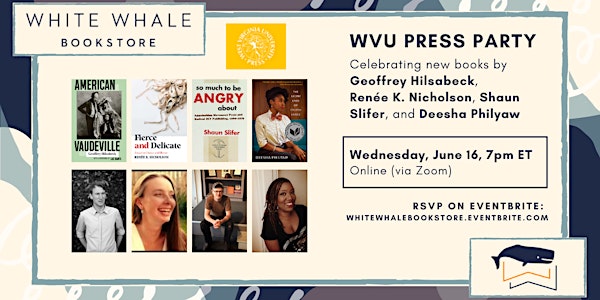 Party! Geoffrey Hilsabeck, Renée K. Nicholson, Shaun Slifer, Deesha Philyaw
Excited to celebrate four authors and their recent books from West Virginia University Press!
Refund Policy
Contact the organizer to request a refund.
Eventbrite's fee is nonrefundable.
About this event
Thrilled to celebrate four recent books from West Virginia University Press in a party for some and a launch for others! We'll be joined this June by Geoffrey Hilsabeck, author of American Vaudeville; Renée K. Nicholson, author of Fierce and Delicate: Essays on Dance and Illness; Shaun Slifer, author of So Much to Be Angry About: Appalachian Movement Press and Radical DIY Publishing, 1969-1979; and Deesha Philyaw, author of The Secret Lives of Church Ladies and recent winner of both the 2020/2021 Story Prize and the 2021 PEN/Faulkner Award for Fiction! This is going to be a fantastic virtual party you won't want to miss.
All four books are available on our ready-to-ship website, which has a wide selection of recommended and best-selling books, store merch, book subscription boxes, and more. You can request specific books you don't see on the site through this form, too. All orders ship from our store in Pittsburgh.
This event will be hosted on Zoom. You'll receive the link to the Zoom meeting the day of the event via email. Free registration/ticket sales will end at 6:30pm ET on 6/16. Please email events@whitewhalebookstore.com if you miss this cut-off and need a ticket. For questions, check out our FAQ for events here.
*
About the authors and praise for their new releases:
American Vaudeville
Geoffrey Hilsabeck is the author of the poetry collection Riddles, Etc. His poems and essays have appeared in the New York Times Magazine, the Believer, Paris Review Daily, Tupelo Quarterly, and elsewhere. He lives in Pittsburgh.
"Hilsabeck is intuitive, canny, penetrating, and wise, and he has absorbed and can play all the tones in the vast calliope of the American language. American Vaudeville is a short book, but it is dense with evocation, each sentence expanding to fill the room. You will read it more than once." —From the foreword by Luc Sante
Fierce and Delicate
Renée K. Nicholson is the author of two poetry collections, Roundabout Directions to Lincoln Center and Post Script, and coeditor of the anthology Bodies of Truth: Stories of Illness, Disability, and Medicine. She serves as director of the humanities center at West Virginia University.
"Renée Nicholson writes with the grace, determination, and, yes, fierceness needed to succeed in the world of professional dance, so it is no surprise that Fierce and Delicate is such a remarkable and en pointe memoir-in-essays, as breathtaking and beautiful as ballet itself. Nicholson's voice blends absolute honesty with a lovely, lyrical descriptive style, and each essay is a pure pleasure to read. Bravo!" —Dinty W. Moore, author of Between Panic and Desire
So Much to Be Angry About
Shaun Slifer is an artist, writer, and museum professional based in Pittsburgh. He is the creative director at the West Virginia Mine Wars Museum and a founding member of the Justseeds Artists' Cooperative.
"So Much to Be Angry About is an example of the best impulses of people's history, careful and caring in its attention to people and places, disposing of nothing, casting a loving and critical eye and turning over stones, not just of movement history and its ideas, but also of the labor of the craftspeople, artists, and makers whose work spurs us on but sometimes goes without examination." —Madeline Ffitch, author of Stay and Fight
The Secret Lives of Church Ladies
Deesha Philyaw's debut short story collection The Secret Lives of Church Ladies was a finalist for the 2020 National Book Award for Fiction and for The Story Prize (2020/2021), and was the winner for the 2021 PEN/Faulkner Award for Fiction. Her writing on race, parenting, gender, and culture has appeared in the New York Times, the Washington Post, McSweeney's, the Rumpus, and elsewhere. She lives in Pittsburgh.
"In this year of constriction and pain, juicy goodness bursts from every page of Deesha Philyaw's debut short story collection. . . . This collection marks the emergence of a bona fide literary treasure." —Minneapolis Star Tribune