Description
Join amazing people for a Party for Paws, where we'll party the night away to raise money for needy animals at the Animal Welfare League of Arlington (AWLA)! We'll gather with hundreds of generous people for a limited open bar, great music, an animal-themed photo booth, and more in St. Yves' ornate and classy lounge space in Dupont Circle. Some adorable animals may make an appearance as well!
All profits will go directly to the Animal Welfare League of Arlington! In addition to the cost of your ticket, you can donate more through Eventbrite, at the event, or on AWLA's website.

Tickets required for entry. 21+ only. All ticket purchases and donations go to costs and AWLA, no refunds are available. Dress code: cocktail attire.


About AWLA
The Animal Welfare League of Arlington (AWLA) is a private 501(c)(3) open admission shelter whose mission is to improve the lives of animals. AWLA provides housing and cares for stray, neglected and homeless animals; places homeless animals in loving homes; offers programs to educate people of all ages about animal welfare; and provides community services like low-cost spay/neuter vouchers and emergency veterinary grants, so that everyone, regardless of income, may enjoy the love of a pet.

Amazing Stories from AWLA
Ana, Elsa, and Olaf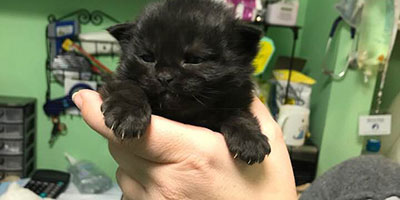 Late one night in March, officers found three tiny, ice-cold kittens in a window-well and brought the kittens straight to AWLA. The kittens were put straight into the incubator to warm them up - they were so cold and lifeless at first, AWLA wasn't sure they were going to make it. But thankfully, after a few hours in the incubator, they warmed up enough to eat, and all of them ate from their bottles like champs! See more photos of Ana, Esla, and Olaf here.
Eunice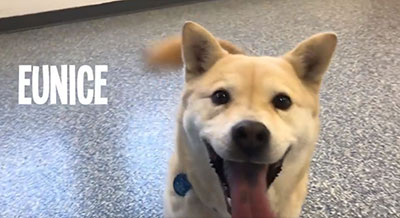 Eunice was recently rescued from a dog meat farm by Humane Society International and arrived at AWLA in December. Life for a dog in a dog meat farm is harsh - the dogs spend their entire lives in tiny, dirty cages, exposed to the elements, with no veterinary care and little food. Most of these dogs are raised to be eaten, but a few, like Eunice, are suspected to have been owned as pets before somehow ending up on these meat farms. Eunice is much more confident than most of the dogs AWLA has received - she plays fetch, and even knows how to "sit"! See Eunice's adorable video here.
Grown Up Puppy Night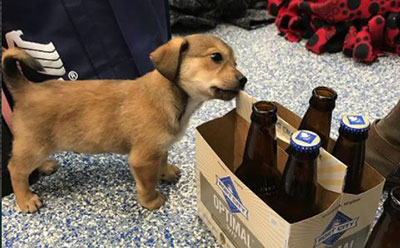 AWLA routinely holds "Grown-Up Movie Night . . . with Puppies" events, where adorable puppies learn to socialize by watching movies with attendees. Learn more about AWLA events here.
Questions/Concerns?
Please contact Kirk.