Location
Armenian Apostolic Church of St. Gregory the Illuminator
60 Hill Street
Singapore, Singapore 179366
Singapore
Refund policy
Contact the organiser to request a refund.
Eventbrite's fee is nonrefundable.
parts + pieces = a collaborative exploration of little-known gems in the vast string chamber repertoire
About this event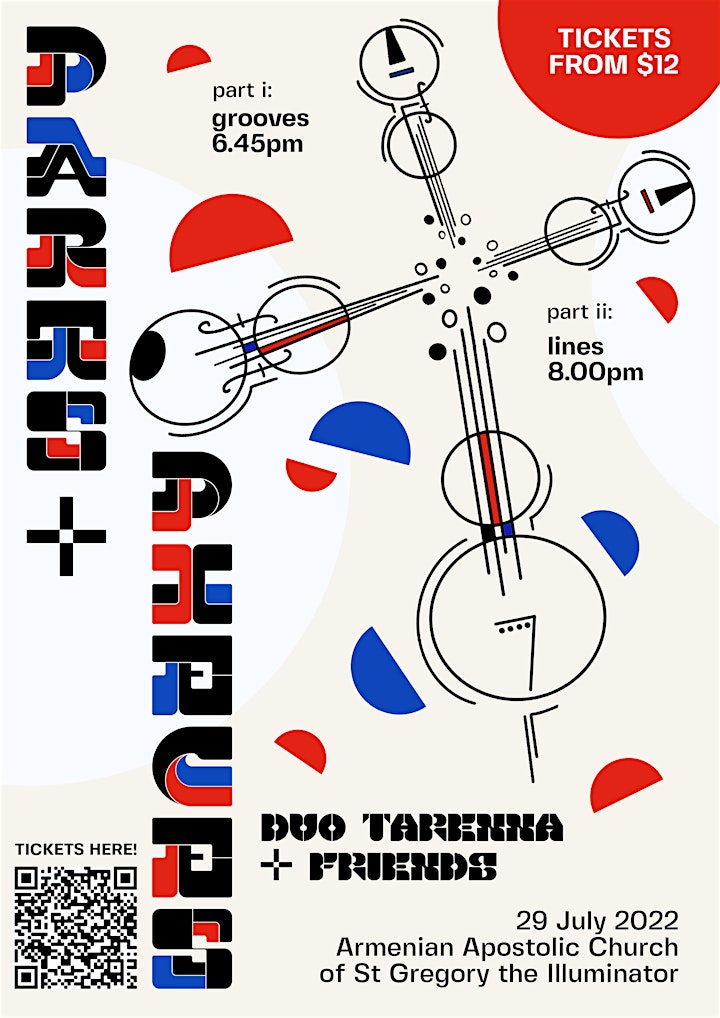 The STRING QUARTET: a quintessential, iconic, beloved medium of Western classical music. Highly demanding, four instrumentalists come together as one in a string quartet through individual prowess, chemistry, and solid teamwork. The string quartet is, to quote Arnold Steinhardt, "indivisible by four", but there are most certainly other musical combinations possible with two violins, one viola and one cello. Just how far can we deconstruct and reassemble the string quartet, and will we stay the same after?
Duo Tarenna's parts + pieces is a collaborative exploration of little-known gems of the vast string chamber repertoire, experimenting with the various combinations of instrumentations within the string quartet. Along with our friends, Joelle Chiam and Tan Yan Chong, Duo Tarenna will take themselves apart in an attempt of self-discovery, to learn just what makes up the idea of a string quartet.
parts + pieces will be presented in two half-shows, two parts, if you may.
Part 1 = grooves features interesting dance forms performed in pairs, trios, and fours, by Hindemith, Sutherland, Clarke and more.
Part 2 = lines, on the other hand, gathers together a wide selection of contrapuntal music, both old and new, from composers like Stravinsky and Carter to Pugnani and Haydn.
We will also be performing two works written by budding composers Xiao Wen and Isaac Lim that we have selected through our Open Call for Scores.
Ticketing
You may purchase a half-show ticket to attend specific half-shows (lines or grooves). Bundles are good for both parts of parts + pieces. Concession tickets are available for students, full-time NSFs and senior citizens above the age of 60. We will admit children above the age of 6. Photography and/or videography are only allowed during curtain call, and prohibited during the concert. We reserve the right to ask audience members to leave the hall should they not comply with these rules.
Venue and Etiquette
No food or drink is allowed in the church. Please dress appropriately - shorts, bermudas and slippers are not allowed in the church. Two toilets are available and located at the rear of the garden for concertgoers. The Armenian Church was consecrated in 1836 and all users of the church are to ensure that due respect and behaviour are accorded at all times.
Programme
Part 1 = grooves (6.45pm - 7.30pm)
Darius Milhaud (1892-1974)
Duo for two violins Op.258
I. Gai
II. Romance
III. Gigue
Paul Hindemith (1895-1963)
Scherzo for viola and cello
Margaret Sutherland (1897-1984)
Divertimento for string trio
I. Andante
II. Allegro
III. Quasi Menuetto
IV. Allegro con Brio
Rebecca Clarke (1886-1979)
Grotesque for viola and cello
Judith Weir (1954-)
Atlantic Drift for two violins
Xiao Wen (2004-)
ここまで 'for now' for string quartet
I. what's the time?
II. wave, waves, waved
Part 2 = lines (8.00pm - 8.45pm)
Isaac Lim (2004-)
Threads for string quartet
Gaetano Pugnani (1731-1798)
Duet for two violins Op. 4 No. 6
II. Allegro
III. Gigue
Igor Stravinsky (1882-1971)
Elegie for solo violin
Elliott Carter (1908-2012)
Canon for 3 - In Memoriam Igor Stravinsky
Joseph Haydn (1732-1809)
Baryton Trio in C major, Hob.XI:101
III. Fuga a 3 soggetti in contrapunto doppio
Aram Khachaturian (1903-1978)
Double Fugue for string quartet
Follow us on Facebook at www.facebook.com/duo.tarenna; on Instagram @duo.tarenna; Find out more on our website: www.duotarenna.wordpress.com