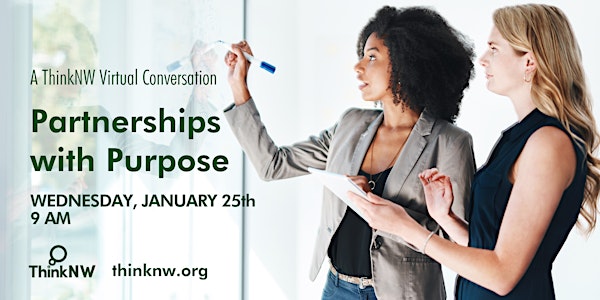 Partnerships with Purpose
Partnerships allow you to reach targeted niche markets without the expense and uncertainty associated with traditional advertising.
About this event
Today more than ever, brands are seeking opportunities to positively impact their communities and support social issues. Brands and events are taking powerful positions and using sponsorship as the vehicle to align brands, properties and social good.
Join ThinkNW on Zoom on Wednesday, January 25th at 9:00 am for an interactive conversation with Paula Bleadle, Founder and CEO of Caravel Marketing and the Sponsorship Marketing Association (SMA), and Director of Memberships & Partnerships at SMA, Lauren Leeman. They will share creative methods to embrace the intersection between sponsorship and social good and how to create powerful partnerships with purpose.

FEATURING
CEO I Sponsorship Marketing Association
Paula Beadle is a partnership marketing thought leader and sponsorship industry trailblazer. Over her illustrious 30+ year career in sports, entertainment and life-style events Paula has been recognized as a transformative leader who drives growth, creates innovative strategies and builds high performing teams.
Paula is the Founder & CEO of Caravel, a national consulting company specializing in strategic sponsorship and partnership marketing. Caravel develops winning strategies, fosters bold ideas, increases revenue and creatively connects the right partners.
Paula is also the Founder & CEO of the Sponsorship Marketing Association. Paula is a visionary leader and an avid champion of the industry. She founded SMA to strengthen, unify and advocate for the industry's continued growth. Paula is on a mission to help marketers master the art and science of sponsorship.
Paula is a sought-after speaker, a Mentor for Women in Sports & Entertainment (WISE) and serves the Red Cross, Seattle Sports Commission and Washington Fairs and Events Association.
Director of Memberships & Partnerships I Sponsorship Marketing Association
Lauren Leeman is a membership and business development leader with a background in the association and nonprofit fields. With 15 years of experience, Lauren espouses a relationship-first membership ethos and develops innovative partnerships integrating business needs and social impact goals. Lauren has partnered with Fortune 500 companies on six-and seven-figure sponsorships and donations for causes including child welfare reform, STEM education, workforce diversity, and veterans' aid.
As the Director of Memberships and Partnerships at the Sponsorship Marketing Association, Lauren leads SMA's membership recruitment and retention efforts and collaborates with Caravel on its social impact work. Lauren is passionate about SMA's efforts to make the industry's work more sustainable, scalable, and impactful.
FIND OUT MORE ABOUT THINKNW
Don't know if you're a ThinkNW Member (or interested in joining our community)? Check out our list of Current Members.
Want to host programming or networking event with ThinkNW? Contact Doug Zanger, President - zanger@thinknw.org.