Actions and Detail Panel
Partnerships & Professional Learning Conference
Fri, December 16, 2016, 9:00 AM – 4:00 PM CST
Description
Download the Conference Schedule HERE!
The Partnerships & Professional Learning Conference is designed for arts education partners, teaching artists, and other non-classroom arts educators working with Chicago Public Schools.
Plenary Speakers Announced!
Trauma and the Arts: Adapting Arts Partner Curriculum and Instructional Practices to Best Support Students
Speaker: Ping Ho, MA, MPH is Founder and Director of UCLArts and Healing, which transforms lives through creative expression by integrating the innate social-emotional benefits of the arts with mental health practices. UCLArts and Healing is an organizational member of the UCLA Collaborative Centers for Integrative Medicine, of which Ping is a Steering Committee Member and was founding administrator. She was also founding administrator for the UCLA Cousins Center for Psychoneuroimmunology, which led to the privilege of writing for Norman Cousins and co-writing the professional autobiography of George F. Solomon, M.D., founder of the field. Ping has an extensive background as a health educator and performing artist. She has a B.A. in psychology with honors from Stanford ‒ where she was appointed to spearhead the still-thriving Health Improvement Program for faculty and staff, an M.A. in counseling psychology with specialization in exercise physiology from the University of California, Santa Barbara, and an M.P.H. in Community Health Sciences from UCLA School of Public Health. Ping is a member of the Council of Advisers for the Academic Collaborative for Integrative Health and the Steering Committee for the Association Leadership Council of the Academy of Integrative Health and Medicine.www.uclartsandhealing.org.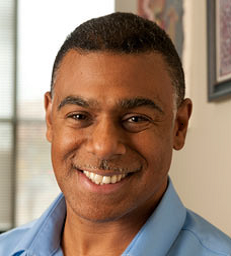 Becoming Trauma Informed
Jacob Dancer, LCSW has been working for UCAN since1994. Currently, Mr. Dancer manages UCAN's violence prevention program, the 360 Community Program in the North Lawndale community. In this role, Mr. Dancer develops and coordinates a range of mentoring, youth leadership, mental health and family related services through engagement and collaboration with North Lawndale community organizations and various departments of UCAN. Mr. Dancer actively works to address levels of violence in North Lawndale through supervising and administering a unit of assigned Youth Development Coaches. These coaches direct, guide and support youth on becoming more involved in out-of-school time activities such as counseling, employment and recreation as well as working with youth on violence prevention skills (i.e., anger management, conflict resolution, life skills). Mr. Dancer also supervises and administers clinicians providing a wide range of therapeutic services to clients in community-based outpatient counseling settings. Mr. Dancer plays an integral role in establishing and maintaining beneficial partnerships with community organizations in order to facilitate learning and growth opportunities for youth at-risk for being victims of and/or committing crimes. Mr. Dancer drives these opportunities through training North Lawndale social service agencies to help them become model trauma-informed agencies.