Partnerships & Innovation for Smart Cities (GAEF 2021)
The German American Economic Forum 2021 on Smart Cities focuses on partnerships and innovative technologies for the city of tomorrow.
About this event
Partnerships & Innovation for Smart Cities
German American Economic Forum 2021
After seven online panel discussions introducing and creating awareness for the many technical solutions available to "smart" cities, we are concluding our successful series with the German American Economic Forum: Smart Cities 2021 focussing on the needed partnerships and innovative technologies to develop and achieve the city of tomorrow.
Cities are facing unprecedented challenges related to climate change, urban sprawl, scarcity of resources, inequality, safety, any many more. Innovative technology solutions can help to make cities "smart" and can also provide new energy sources, improve energy efficiency in buildings, manage traffic or logistical flow.
Join our interactive live panel discussions to hear from industry, academic and municipal leaders in Germany and the U.S. as they discuss pathways and their visions for Smart Cities. Ask questions and join fellow participants for a virtual coffee break over Zoom to meet & mingle!
#GAEF2021
Program & Speakers
8:30AM Video Highlights from online series
8:45AM:            Welcome & Opening of the Forum
9:00AM:              Keynote "Innovation for City Solutions"
9:15 AM:            Panel 1 "Pathways to Smart Cities"
Moderator
10:15AM Virtual Coffeee Break via Zoom
Meet & Mingle on Zoom
10:45 AM:              Keynote "Partnerships for Implementing Smart Cities"
11:00 AM:            Panel 2 "Visions for a Smarter Future for Cities"
Moderator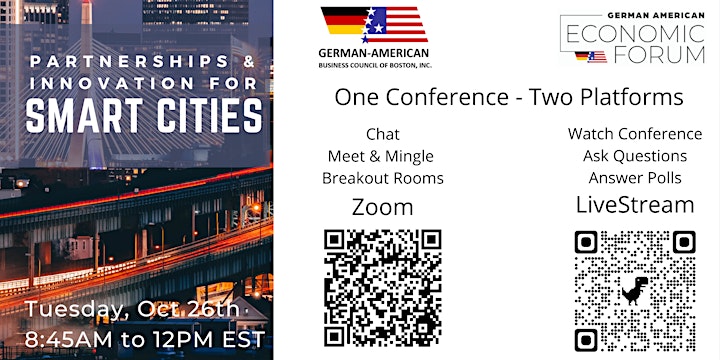 Thank you to our Event Sponsor

About the German American Economic Forum (GAEF)
The German American Economic Forum (GAEF) is the GABC's annual flagship event bringing together different stakeholders over one focus topic. GAEF takes up current economic affairs and future topics from different industries to provide a networking, learning and discussion opportunity for stakeholders from the private sector, academia, government and civil society. GAEF draws on the strong German-American business community to showcase innovative solutions from German industries and American businesses with German ties. The Focus of the GAEF 2020/2021 Virtual Series and 2021 Conference is "Smart Cities". The focus of GAEF 2019 held at Northeastern University was Healthcare (see video highlights below).
Organizer of Partnerships & Innovation for Smart Cities (GAEF 2021)
The German-American Business Council of Boston, Inc. (GABC) is a non-profit, member-based organization of companies, business people, and other professionals dedicated to encouraging and cultivating German-American business. Through our presentations, networking events, and social gatherings, GABC provides opportunities for the exchange of ideas, and for contact between its members. The mission of the GABC Young Professionals Group (GABC YP) is to connect and empower young professionals through social and business networking opportunities in the German-American community of Boston and beyond. It is open to all students, recent grads, postdocs, interested mentors, and any members at the early stages of their careers. Visit www.gabc-boston.org for more information.