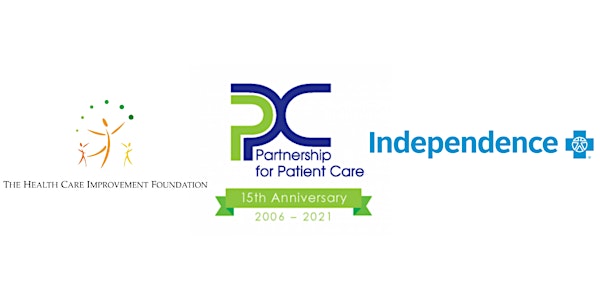 Partnership for Patient Care 2022 Leadership Summit
Partnership for Patient Care 2022 Leadership Summit: Achieving Health Equity through Community Engagement
About this event
Please join us for the Health Care Improvement Foundation's Partnership for Patient Care (PPC) 2022 Leadership Summit. This hybrid event brings healthcare leaders together to address leading healthcare challenges and to hear about the innovative work organizations across the region are doing to advance quality and patient safety. The theme for this year's event is Achieving Health Equity through Community Engagement.
This is a free hybrid event, which attendees will join virtually via Zoom, or in-person at the Science History Institute in Philadelphia.
In-Person
COVID-19 Vaccine Required
Masks Encouraged
Networking opportunities
Refreshments served
Virtual
Webinar via Zoom
Engage with speakers and attendees through chat
Agenda
1:00-1:30 - Registration 
1:30-1:45 - Welcome and Introduction 
1:45-2:15 - 2022 Delaware Valley Patient Safety & Quality Awards 
2:15-2:35 - HCIF Program Spotlights
2:35-2:45 - Break
2:45-3:25 - Keynote Speaker: Dr. Somava Saha
3:25-3:55 - Regional Speaker: Victor Murray, MSW, Camden Coalition
3:55-4:00 - Closing Remarks
4:00-5:00 - Networking Reception
Keynote Speaker:
Somava Saha, MD, MS has dedicated her career to improving health, wellbeing and equity through the development of thriving people, organizations and communities. She has worked as a primary care internist and pediatrician in the safety net and a global public health practitioner for over 20 years. She has witnessed and demonstrated sustainable transformation in human and community flourishing around the world.
Currently, Soma serves as Founder and Executive Lead of Well-being and Equity in the World (WE in the World), as well as Executive Lead of the Well Being In the Nation (WIN) Network, which work together to advance inter-generational well-being and equity. Over the last five years, as Vice President at the Institute for Healthcare Improvement, Dr. Saha founded and led the 100 Million Healthier Lives (100MLives) initiative, which brought together 1850+ partners in 30+ countries reaching more than 500 million people to improve health, wellbeing and equity. She and her team at WE in the World continue to advance and scale the frameworks, tools, and outcomes from this initiative as a core implementation partner in 100MLives.
Previously, Dr. Saha served as Vice President of Patient Centered Medical Home Development at Cambridge Health Alliance, where she co-led a transformation that improved health outcomes for a safety net population above the national 90 th percentile, improved joy and meaning of work for the workforce, and reduced medical expense by 10%. She served as the founding Medical Director of the CHA Revere Family Health Center and the Whidden Hospitalist Service, leading to substantial improvements in access, experience, quality and cost for safety net patients.
In 2012, Dr. Saha was recognized as one of ten inaugural Robert Wood Johnson Foundation Young Leaders for her contributions to improving the health of the nation. She has consulted with leaders from across the world, including Guyana, Sweden, the United Kingdom, Singapore, Australia, Tunisia, Denmark and Brazil. She has appeared on a panel with the Dalai Lama, keynoted conferences around the world, and had her work featured on Sanjay Gupta, the Katie Couric Show, PBS and CNN. In 2016 she was elected as a Leading Causes of Life Global Fellow.
Regional Speaker:
Victor Murray, MSW serves as Sr. Director of Community Engagement & Capacity Building. Victor focuses on working across the Camden Coalition to design, iterate and operationalize new data-driven interventions that will impact specific segments of the population. Prior to this role, he formed a hospital-based violence intervention program and served as program manager for Camden Coalition's community-based outreach team. Victor enjoys playing a role in providing better care to Camden City residents and living life.
Victor's presentation will:
Showcase a regional program that advances health equity through community engagement;
Emphasize the power of partnership between a healthcare provider and a community-based organization;
Describe the improvement journey, including strategies, barriers, timeline, roles and results