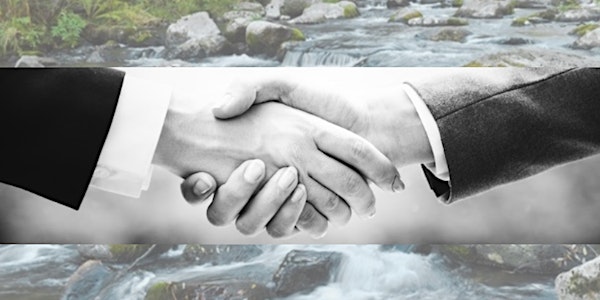 Partnering to Protect Watersheds Workshop
When and where
Location
Adams County Conservation District 670 Old Harrisburg Road Gettysburg, PA 17325
Description
Watershed groups across the South Mountain region have accomplished great strides in protecting and improving water quality, keeping riparian areas as green space, and raising awareness about the importance of our rivers and streams. When these groups work collaboratively with their local municipalities, the impact of these partnerships magnifies the results and ensures longevity of the projects.
That is why Capital RC&D is partnering with the South Mountain Partnership to organize a FREE half-day workshop for members of watershed groups in the region, with particular focus on those in Adams, Cumberland, Franklin, and York counties, to hear from several watershed groups in the region who work effectively with municipalities on watershed protection efforts. Municipal staff in those counties are also encouraged to attend. Attendees will also learn about potential funding for watershed efforts being offered by the South Mountain Partnership.
AGENDA
9:00-9:30 am
Breakfast and informal networking time
9:30-9:45
Welcome – Susan Richards of Capital RC&D and Katie Hess of the South Mountain Partnership
Overview of Keystone 10 Million Trees Partnership - Brenda Sieglitz
9:45-10:25
Case Study Panel 1 and Q&A

Dr. Elizabeth George of the Johnston Run Revitalization Project - recreational opportunities and stormwater runoff management coordination with the Borough of Mercersburg

Brook Lenker of the Yellow Breeches Watershed Association - Municipal Separate Storm Sewer System (MS4) coordination with Lower Allen Township
10:25-10:40
Break
10:40 -11:20
Case Study Panel 2 and Q&A

Pat Naugle of the Watershed Alliance of Adams County - coordinating various watershed projects across and with multiple municipalities

Bill Ferris of the Big Spring Watershed Association - working with multiple municipalities to improve water quality

11:20-11:55
Directed attendee sharing time - each attendee will have one minute to provide a quick overview of projects their watershed group or municipality is doing to improve local water quality
11:55-12:00
Closing remarks

Registration is limited to 3 people per watershed group / municipality to maximize the number of organizations in the region that can participate.
Questions about the event? Contact jessica@capitalrcd.org.
This workshop is funded by a grant from the Chesapeake Bay Funders Network, Chesapeake Bay Trust, National Fish and Wildlife Federation, US Environmental Protection Agency, and the Chesapeake Bay Program. It was also funded by a convening grant from the Foundation for Pennsylvania Watersheds.