Description
CFOLC's Ask The Expert Webcast
Partnering Innovation & The Finance Function ~ Part II
hosted by The CFO Leadership Council
Tuesday, October 16, 2018
12:00PM - 1:00PM ET
Note: Dial In info will be sent in your registration confirmation
Discussion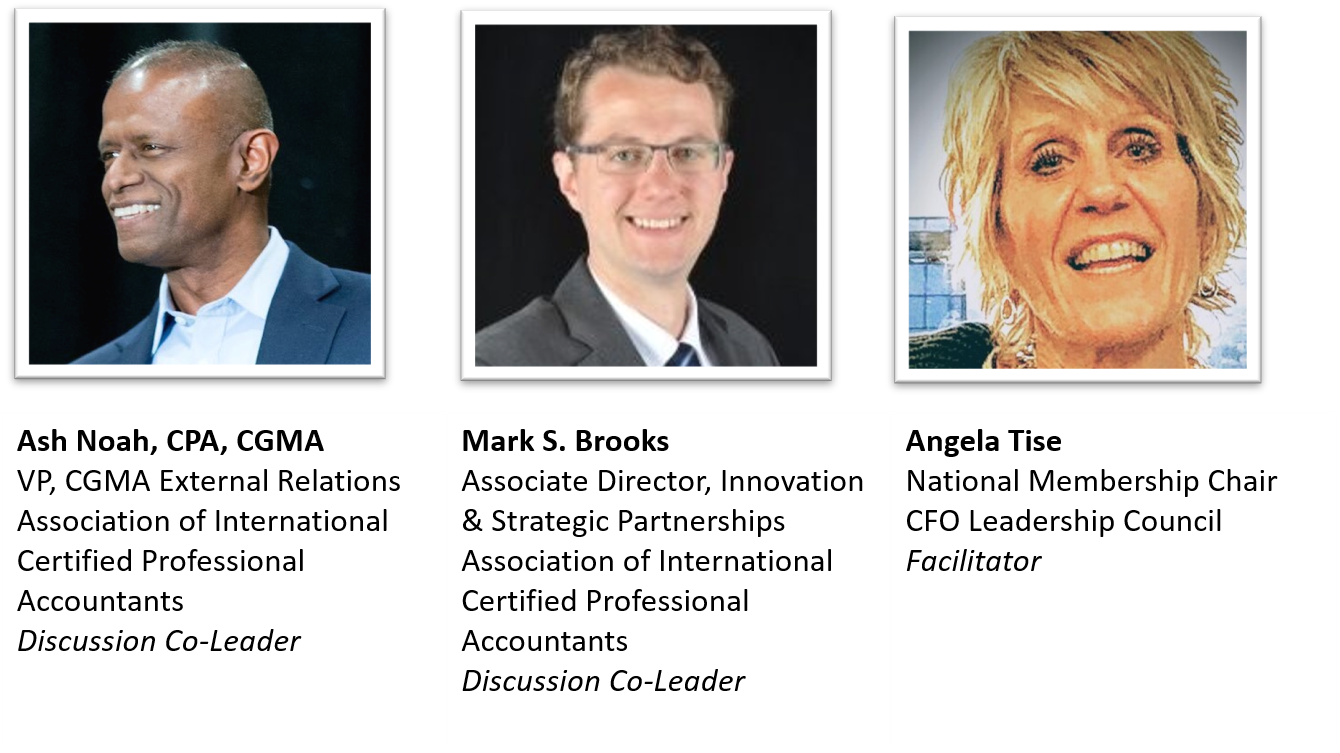 Discussion
Partnering Innovation & The Finance Function ~ Part II
Adapting and evolving to everchanging global trends and practices can be taxing on your team and your resources. According to Accenture Research's Disruptability Index 2018, 63% of companies are experiencing disruption. Employees are continuously generating new knowledge, collaborating, learning about the market and opportunities for growth. How do CFOs leverage this brainpower and help drive innovation?
Join Ash Noah, CPA, CGMA, and Mark Brooks, MBA, Associate Director, Innovation & Strategic Partnerships from the Association of International Certified Professional Accountants, for a deep dive discussion on the "How" of partnering innovation and finance. and how finance professionals can help develop and nurture their organization's next big idea.
This is Part II of a discussion held on Sept 5th. If you weren't able to attend Part I, no worries. We will give a recap of the session at the start of this Part II webcast. CFOLC Premium & Virtual Members ~ Recordings of all past webcasts are available to you in the CFOLC Resource Library.
After this webcast you will be able to:
Understand why supporting innovation is a business imperative
Identify innovative ideas and employees and know how to nurture them
Have several clear, actionable ideas for fostering a culture of innovation in your workplace.
If you have specific questions in advance of the presentation, please send them to Angela Tise angela@cfolc.com for inclusion in the presentation.
We know this topic can generate hours of conversation and because we value your time and have only allocated one hour, we want to work as many of your questions as possible in to the initial discussion. Please note, we will leave time for Q&A at the end and we will also invite your questions and comments as the presentation is happening.
Registration
To register for this program, simply click on the green tickets button. All current CFO Leadership Council Premium and Online members can attend this event for free. (If you don't know your code, contact your chapter Marketing Director). Non-member senior financial executives who are CFOs, Vice Presidents of Finance, Directors of Finance and Controllers (or the like) are welcome to attend this program.

Please note The CFO Leadership Council reserves the right to decline any registration.
CPEs are not offered.
---
More Information
For more information about this program or The CFO Leadership Council, please contact Angela Tise, Northeast Regional Director at angela@cfolc.com.
---
About Our Speakers
Ash Noah, VP, CGMA External Relations, Association of International Certified Professional Accountants
Ashok Noah serves as a liaison to CFOs and CEOs to understand how finance teams are evolving and guides AICPA initiatives to help management accountants create more value for their organizations. Noah is responsible for building and strengthening relationships with global employers and elevating awareness of the Chartered Global Management Accountant (CGMA) designation. He works closely with the Chartered Institute of Management Accountants (CIMA) in the U.K. in that effort. Noah joined the AICPA in 2012. Prior to the AICPA, he served as CFO of the international unit of TNT Express, the global transport and logistics provider and led finance teams in 45 countries through significant transformation. He has been involved with mergers and acquisitions in Brazil, Chile, India and Spain. Noah is a licensed U.S. CPA and a Fellow of CIMA. He is based in Durham, North Carolina.
Mark S. Brooks, MBA, Associate Director, Innovation & Strategic Partnerships, Association of International Certified Professional Accountants
Mark S. Brooks, MBA, is an entrepreneur at heart with a 14-year record of translating complex business needs into strategy and technology solutions in emerging markets.At age 15, he founded a popular website ranked in the top 3% of Internet traffic in the 90's.Mark studied meteorology in college, spent 11 years commercializing science and data for farmers, earned his MBA, and was a principal in two failed startups. Since then, he has published several well-regarded articles about Innovation in the CGMA Magazine and academic literature.His current role at the Association is focused on strategic innovation, growth of the profession, enhancing the culture of innovation, and thought leadership