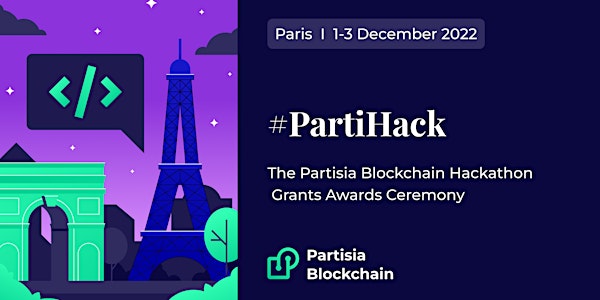 #PartiHack 2022
Inviting all passionate project founders and developers to come build on the leading MPC-enabled blockchain—Better Apps for a Better World.
When and where
Location
Palais Vivienne, 36 Rue Vivienne, 75002 Paris, France. 36 Rue Vivienne 75002 Paris France
About this event
#PartiHack is a Partisia Blockchain's global hackathon and grants event for founders with tech skills and/or a revolutionary idea for the greater good. You'll get the chance to bring your best web3 ideas to life on the ultimate privacy-preserving blockchain, and learn from pioneers of multi-party computation (MPC) and the most experienced zero-knowledge cryptographers, developers, and economists in the world.
We are focussed on building and expanding, despite the challenging market. Join us in Paris as we watch our ecosystem grow live and announce the winners of Partisia Blockchain's first hackathon.
Event submissions will be directed at the following two challenges:
🔗 Challenge 1: DeFi beyond Crypto. Tackle a complex financial problem that hasn't yet benefited from the promise of blockchain decentralization:
🔗 Challenge 2: Data Economy in Web 3.0. Give the users their fair share while allowing them to preserve complete control over their data.
If you have an idea or know savvy founders looking to roll their sleeves up and get to work - registration is available now: hackathon.partisiablockchain.com
We welcome all skill sets. The more diverse the team is, the better the solutions! 😉
Au revoir and see you in Paris!