Participatory Budgeting in NYC: Thinking Critically and Looking Forward
Description
UPCOMING EVENT
Participatory Budgeting in NYC: Thinking Critically and Looking Forward

---
---
Participatory Budgeting in NYC: Thinking Critically and Looking Forward
Presented by the Center for New York City Affairs at The New School.
New York City is experiencing a new kind of democracy. Through participatory budgeting, residents of eight City Council districts deliberated and voted this year on how best to spend about $10 million of public money for capital projects in their districts. Can participatory budgeting help strengthen community infrastructure and residents' own investment in their neighborhoods? In a city that spends tens of billions of dollars each year on capital projects, can the participatory approach be substantially scaled up? What are its limits?

Panelists:
Josh Lerner, executive director, Participatory Budgeting Project
Larian Angelo, vice president for administration and finance, The New Community College at CUNY
Eve Baron, senior fellow for policy and planning, Pratt Center for Community Development
Michael Freedman-Schnapp, policy director, Office of City Councilmember Brad Lander, 39th District
Alexa Kasdan, director of research and policy, Urban Justice Center
Melissa Mark-Viverito, member, New York City Council, 8th District
Moderated by:
Jarrett Murphy, editor-in-chief, City Limits
Admission is free, but you must RSVP.
The Center's public policy forums are made possible thanks to the generous support of the Milano Foundation.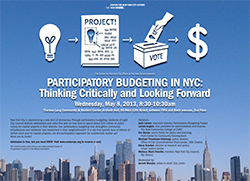 WEDNESDAY, MAY 8, 2013
8:30 AM - 10:30 AM
Theresa Lang Community & Student Center, Arnhold Hall
55 West 13th Street
(between Fifth and Sixth avenues)
2ND FLOOR

Center NYC on Facebook
About Us
Contact Us
Milano Calendar of Events
Organizer of Participatory Budgeting in NYC: Thinking Critically and Looking Forward