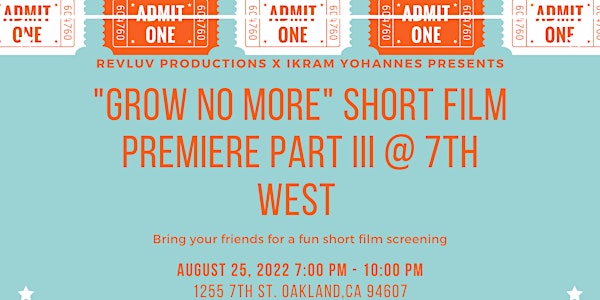 Part III series, Grow No More Short Film Premiere
Come join me to watch my 3rd short film series installation, "Grow No More" directed, & written by me.
When and where
Location
7th West 1255 7th Street Oakland, CA 94607
About this event
This is a free event and open to the public, so bring all the homies, and enjoy the summer with a nice kick to a short film about growth and womanhood.
I'm a young, creative, skilled film director & photographer. These past few years I started creating my short film with the idea of focusing on womanhood specifically highlighting women of color. With each short film, I include a poem [written by me] emphasizing the ups and downs, heartbreak and isolation that comes with everyday relationships. This idea holds significant value in relation to my personal growth as a black women. I want to shed light on the heartbreaking relationships that we as black women hide and have to overcome. This story is for all of us. The woman I am today is the woman I always was and will always be.
I hope you enjoy!
Follow me on Instagram: @eekclypse