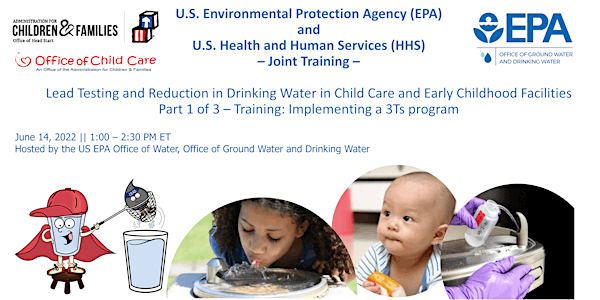 Part 1: Lead Testing Training - Drinking Water in Early Childhood Centers
U.S. EPA - U.S. HHS Joint Webinar Training on Lead Testing in Drinking Water in Child Care and Early Childhood Facilities: Part 1 - TRAINING
Date and time
Tuesday, June 14, 2022 · 10 - 11:30am PDT
About this event
Register or Re-register (If done previously) Online Now!
The U.S Environmental Protection Agency (EPA) and U.S. Health and Human Services (HHS) invite you to register for our 3-part training webinar series on Lead Testing and Remediation in Drinking Water in Child Care and Early Childhood Facilities.
The 3-part series builds on each other and is designed to provide the resources needed to complete a 3Ts (Training, Testing, and Taking Action) plan to conduct lead testing and reduce exposure to children.
Join and learn:
The EPA and HHS will take you through presentations, interactive tools, and case studies. We will share program information and funding opportunities (including new funding from the Bipartisan Infrastructure Law passed in November 2021 by President Biden) available to child care/early childhood facilities.
Target Audience:
Early Head Start and Head Start programs
Pre-school/Early education programs
Center-based and Family child care homes
Train-the-Trainer: State child care Technical Assistant providers
Please join us for this 3-part series:
Part 1 of 3: June 14, 2022 1:00 PM - 2:30 PM Eastern Time (this event)
TRAINING - Implementing a 3Ts program for Lead Testing in Drinking Water in Child Care and Early Childhood Facilities
Part 2 of 3: June 23, 2022 1:00 PM - 2:30 PM Eastern Time
TESTING - Implementing a 3Ts program for Collecting Lead Samples in Drinking Water in Child Care and Early Childhood Facilities (REGISTER NOW)
Part 3 of 3: July 14, 2022 1:00 PM - 2:30 PM
TAKING ACTION - Implementing a 3Ts program for Reducing Lead Exposure in Drinking Water in Child Care and Early Childhood Facilities (REGISTER NOW)