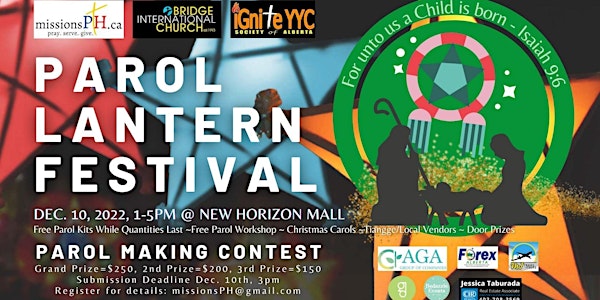 Parol Lantern Festival (Free event)
Calgary will hold the first-ever Parol Lantern Festival. Best Parol Making Contest is now ongoing. Visit FB: missionsPH for details.
When and where
Location
New Horizon Mall 260300 Writing Creek Crescent Balzac, AB T4A 0X8 Canada
About this event
On Dec. 10th, 2022, from 1:00 to 5:00 pm at The New Horizon Mall, Balzac, Alberta, we will hold the first-ever Parol Lantern Festival of Calgary. Plus the submissions for the best Parol Making Contest is now ongoing. We invite the public across Canada to join the festivities for free as we celebrate the true meaning of Christmas: "For unto us a Child is born - Isaiah 9:6".
There will be Christmas carols, stage entertainment, community fair, vendors, door prizes, and parol making kits will be given out for free for those who will join the free parol making workshop (while quantities last, a $20 value). Parol making kits will also be available for sale on-site ($20/kit including Christmas lights).
Parol means lantern and is a staple Christmas decor in the Philippines. Star-shaped, originally made out of bamboo sticks, decorated, lit up, and hugged by the front window of houses symbolizes the Star of Bethlehem as it points to where the Baby Jesus was born.
Many years we have been providing parol-making kits throughout Canada and the United States. We have held many community events throughout Alberta, offering a free workshop on how to make a parol & sharing the Christmas spirit of Peace & Hope. Hundreds of families and individuals have found this nostalgic as it reminds them of the Philippines or has enjoyed learning about this Filipino cultural tradition for the first time. All the while, sales of the parol-making kits have blessed many vulnerable communities in the Philippines through local Church aid, water & sanitation projects, medical & dental missions trip, and natural disaster relief efforts.
The Parol Lantern Festival welcomes everyone and is a wholesome, fun, and meaningful family event for everyone this Christmas season.