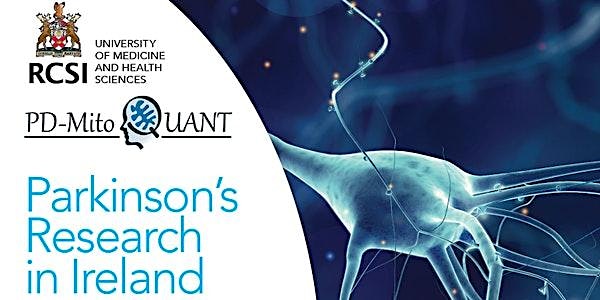 Parkinson's Research in Ireland
Come along and learn about state-of-the-art Parkinson's research in Ireland!
About this event
Perspectives from research laboratories, the clinic, industry and those with the condition will be shared over 3 weeks through short, lively talks followed by a Q&A session.
Anyone with an interest in Parkinson's is invited to attend, including students, researchers, people with the condition, family&carers, health professionals and patient advocacy groups!
Register once to attend all events!
Admission will be on a first come, first served basis up to 100 attendees.
Speakers will include: 
12 Nov, 6:00 - 7:00 PM
Gary Boyle, Parkinson's Association of Ireland
Jochen Prehn, RCSI, PD-MitoQUANT Project Coordinator
19 Nov, 6:00 - 7:00 PM
Eilis Dowd, NUI Galway Medicine, Parkinson's researcher
Catriona McLoughlin, Dublin Neurological Institute
26 Nov, 6:00 - 7:00 PM
Suzanne Timmons, UCC Centre for Gerontology and Rehabilitation, Parkinson's researcher
Jeremy Skillington, Inflazome (Roche)

This meeting is organised by PD-MitoQUANT partners (#PDMitoQuant).
To learn more about PD-MitoQUANT, see: https://www.pdmitoquant.eu/ 
PD-MitoQUANT has received funding from the Innovative Medicines Initiative 2 Joint Undertaking under grant agreement No 821522. This Joint Undertaking receives support from the European Union's Horizon 2020 research and innovation programme and EFPIA and Parkinson's UK. The material presented and views expressed here reflect the author's view and neither IMI nor the European Union, EFPIA, or any Associated Partners are responsible for any use that may be made of the information contained herein.