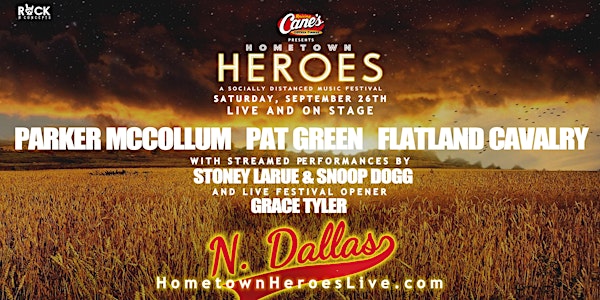 Parker McCollum, Pat Green, Flatland Cavalry LIVE Starting at $52/Person
Tickets start at just $52 / Person - Minimum 4 Ticket Purchase
Performers
Parker McCollum, Pat Green, Flatland Cavalry
Snoop Dogg, Stoney LaRue, Grace Tyler
Location
N. Dallas in Little Elm - Through "Supreme Farms" Gates on 720
4195 FM 720
Aubrey, TX 76227
HOMETOWN HEROES Concert features LIVE performances from PARKER MCCOLLUM, PAT GREEN, FLATLAND CAVALRY - TIX start at $52/Person, MIN 2 People
About this event
HOMETOWN HEROES CONCERT SERIES: A Socially Distanced LIVE Concert Experience!
TICKETS START AT JUST $52 / PERSON - minimum 2, 4, 5, or 6 person purchase as each ticket is good for ONE socially distanced Party Pod for you and your friends to enjoy! Help us bring live music BACK in a safe way! TICKETS are MOVING FAST!!
Featuring LIVE performances by:
PARKER MCCOLLUM ~ PAT GREEN ~ FLATLAND CAVALRY
Also featuring STREAMED performances by:
STONEY LARUE ~ SNOOP DOGG
Special Guest - Grace Tyler
Hometown Heroes is a socially distanced Festival that will take place in Lubbock, N. Austin and N. Dallas on the weekend of September 25 – 27th. Each "ticket" is good for a set amount of people in a socially distanced space (Refer to ticket option for 2, 4, 5, or 6 people packages)! The THREE LIVE shows will take place on the SAME NIGHT in the DIFFERENT cities at times that align with the production of ONE SEAMLESS SHOW. Each artist will play their time slot LIVE to their audience, which will be recorded and STREAMED to the other markets! *PLEASE NOTE: Streams subject to change!
***HOMETOWN HEROES SAFETY STANDARDS and CODES OF CONDUCT***
1. I certify that neither myself nor my guests have been in contact with an individual that has tested positive for COVID-19 in the past 15 days.
2. I understand that I am not allowed to leave my defined space for the show unless it is for an emergency or to visit the restroom, at which time I promise to adhere to maintaining the required 6' social distancing standards and I will wear a mask.
3. I will adhere to the required 6' social distancing standards and wear a mask in the restroom waiting areas.
4. No weapons or outside food & beverage are permitted.
5. I certify that the temperature of my guests and myself was checked upon entry and we were cleared of having a fever at time of entry. I also certify that to my knowledge, neither I or my guests have had a fever in the last 15 days.
6. At no time will a guest be allowed to combine or share spaces with other guests. The MAX number of people per space is 6.
7. Hometown Heroes takes this public health crisis extremely seriously and will not tolerate disregard for our requirements pertaining to social distancing and our Codes of Conduct. Violation of ANY of these points will result in immediate removal from the event with NO REFUND.
***BY PURCHASING A TICKET TO THIS EVENT, YOU AGREE TO ADHERE TO ALL OF THE ABOVE POLICIES AND PROCEDURES, AS WELL AS ANY OTHER POLICIES AND PROCEDURES INCLUDED IN THE SAFETY HANDOUT WHEN YOU ARRIVE AT THE EVENT! FAILURE TO DO SO MAY RESULT IN IMMEDIATE REMOVAL FROM THE EVENT WITH NO REFUND!***