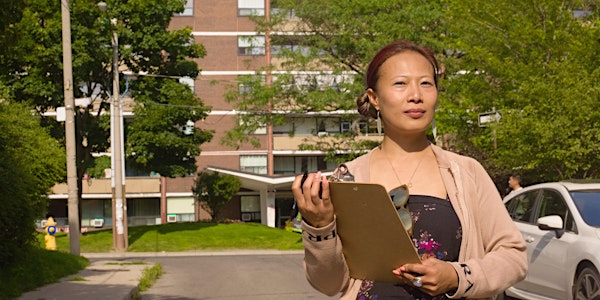 Parkdale Tower Rental Housing Study - Report Launch!
Join us for the launch of our long-awaited Parkdale Tower Rental Research Report!
About this event
On September 15 (6:00-7:30 pm), join researchers, tenants, and community leaders for the launch of the Parkdale Tower Rental Housing Study report and a presentation of key findings.
The Parkdale Tower Rental Housing Study was a community-based action research study on the Impact of the financialization and gentrification by upgrading of Parkdale's rental towers on housing affordability and tenant wellbeing.
Executive Summary:
Since the early 2010s, threats to the affordability of mid- and high-rise rental apartments in Toronto's Parkdale neighbourhood have grown considerably. Large property management firms, investors, and real estate investment trusts (REITs) have acquired significant stocks of rental housing in order to capitalize on gaps between current rent levels and potentially higher rents. As a result, tenants in Parkdale have experienced aggressive rent increases and mounting displacement pressures.
Against this backdrop, in 2020–21, the Neighbourhood Land Trust (NLT), the charitable arm of the Parkdale Neighbourhood Land Trust (PNLT), undertook the Parkdale Tower Rental Housing Study, an eight-month community action research project conducted in collaboration with tenants and community partners, including the Parkdale People's Economy. Our research reveals a troubling trend of monopolistic control by landlords over Parkdale's rental housing stock. As of 2020, 71% of 6,060 rental units in South Parkdale were owned by large corporate landlords and financial firms. The latter owned over half of South Parkdale's private apartment units. These landlords deploy a range of tactics of extraction and harassment to capitalize on gentrification pressures and increase rents. This process, termed gentrification by upgrading, repositions rental apartments as high-end products targeting higher-income tenants.
Equally important, our research finds little difference in tenants' experiences of aggressive rent increases, structural neglect of maintenance needs, and gentrification by upgrading regardless of whether their apartments are owned by financialized, corporate, or small-scale landlords. This finding underscores the need for a systemic approach to housing justice. Although the financialization of rental housing is a key driver of change in Parkdale, other types of private landlords have followed the business model instigated by financialized firms. Gentrification by upgrading is also enabled by government policies aimed at deregulating housing markets, including vacancy decontrol and above-guideline rent increases (AGIs). As a result, Parkdale's rental housing market is increasingly subject to expectations of higher financial returns on the part of private landlords. Our findings suggest that what is needed is not just regulations targeting particular types of landlords, such as financial firms, but systemic improvements to tenant protections and the decommodification of rental housing in the service of building a more just housing system. Without these actions, Parkdale's rental housing stock will continue to become less affordable, and tenants will continue to face harassment, unacceptable housing conditions, and displacement pressures.
---
We would like to acknowledge the United Way of Greater Toronto and the Community Housing Transformation Centre for providing core financial support to this community-based research initiative.