Description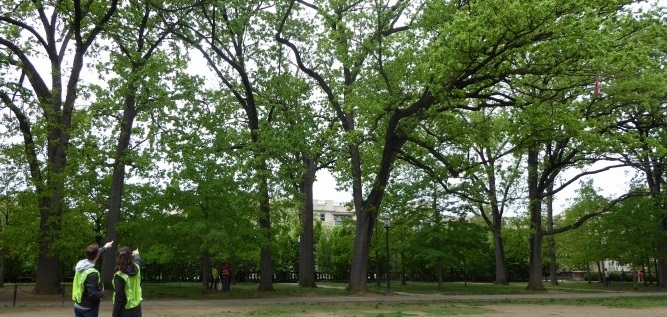 Interested in learning more about the current state of D.C's trees? Putting your tree identification to the test? Leading a group of volunteers? ALL while in the great (urban) outdoors?
We Need Your Help!
Casey Trees is gearing up for the 2017 Park Inventory season. This initiative in collaboration with the National Park Service and Urban Forest Administration is the first of its kind and aims to quantify the state of our urban canopy--from the ground up. This class will build your confidence in your tree identification, measuring skills and enthusiastically leading a group of individuals through park inventories during this year's data collection season. This event will serve as an in-depth training to teach participates species distinction, tool troubleshooting, tree health qualities and more, certifying them to lead other volunteers in park inventories.
Instructors
Dr. Jessica Sanders, Director of Technical Services and Research
Arielle Conti, Urban Forestry Research Associate
Kierran Sutherland, GIS Analyst
Who Should Attend?
You are an elite class -- only those who have been invited to attend can participate. We have selected you based on your capability, interest and attitude towards this program. We have the utmost confidence in your ability to lead teams and would love your participation in this training to ensure you feel comfortable doing so. This will be a great way to put your advanced knowledge in action!
Getting There
The REI Washington D.C. Flagship Store is located across from the NoMa-Gallaudet metro stop on the red line. Capital Bikeshare is available and there is ample bike parking directly adjacent to the building. The training will take place in the community room, upon entering the flagship store, walk straight back towards the women's clothing section and the room will be on your left.
Meals
Lunch will be offered at the training class. Please let us know if you have any dietary restrictions. We will be offering a happy hour with light refreshments at the end of the training.
---
Support Casey Trees
Consider making a one-time donation when you register to volunteer. We depend on people like YOU to make our tree planting and education programs a reality.
You can also become a Member, shop our store or gift a tree to a friend or loved one.