Park Hill Pizza Pie 1M/5K/10K & the Little Pepperoni Fun Run

Saturday, November 10, 2018 from 9:00 AM to 12:00 PM (MST)
Event Details
1 Mile Start - 8 a.m.   /   Little Pepperoni Youth Run - 8:40 a.m.   /   5K/10K Start - 9 a.m.
Finisher & Awards Medals for Everyone - Tech T-Shirts - Awesome Expo - Fast Course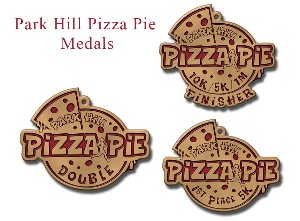 If you're in Denver in the autumn, City Park in Park Hill is the place to be; autumn leaves, an iconic view of the Denver skyline and the Continental Divide … and the Pizza Pie 1M/5K/10K & Little Pepperoni Fun Run! 
Yup, pizza in the park on the 11th of November.  You can get your run on, grab your finisher or awards medal and then grab a slice (or two) and start training for all the holiday feasts with some delicious Park Hill Pizza Pie.
So get ready to earn it - you know you're gonna grab a slice or two! If you're ready to register for the Park Hill Pizza Pie – click that button!  Otherwise, read on; the deep dish of data on the City Park Winter Running Series is below.
This event kicks off the City Park Winter Running Series!
So gobble those carbs and hit that trail, 'cause we're going to be out here running - snow, sleet, wind or, ... well, it's Colorado, so 300+ days of sunshine-a-year!  When the going gets tough - the tough grab another slice o' Park Hill Pizza Pie!  Oh yeah, and we are runners, after all, so when the going gets tough we actually do go out and crank out at least a couple miles!
Sorry, ... I digest ... er, I mean digress. 
The City Park Winter Series has 7 themed events over 5 winter months, begining in November with a gaggle of pizza gobbling goons at the Park Hill Pizza Pie and slipping slowly into March madness and the grand finale at Lucky Laces!
All events include 1 Mile, 5K, 10K (on a certified course) and a youth run

All events are professionally timed with results streaming automatically to Athlinks

All events include finisher and awards medals with the standard registration fee

All events count in the scoring for the series finisher and awards medals
o   Series scoring is simple; must participate in and complete 3 events to qualify.  Scoring is based on your top 3 places in your age division.  All ties are broken by combining your fastest 3 times and then dividing to bring all the times down to a 5K average.  The 1 Mile events do not qualify for anything other than the competition within themselves, but the 5K and 10K can be mixed and matched.
Strollers and pets are welcome at all events (you know the rules)

You can register through the series website or you can register for single events
Here are the events:
Nov 10 - Park Hill Pizza Pie

Dec 15 – Scramblin' Scrooge **

Dec 22 – Christmas Carol Classic

Jan 05 – The Resolve

Feb 9 – Le Cours de l'Amour (The Course of Love)

Mar 9 – Lucky Charm **

Mar 16 – Lucky Laces


Christmas Double and Lucky Double:
Scramblin' Scrooge 1M/5K/10K will occur on December 15, one week before Christmas Carol Classic.  Lucky Charm 1M/5K/10K will occur on March 9, one week before Lucky Laces.
The finisher and awards medallions for Scramblin' Scrooge and Lucky Charm are designed to stand alone OR go along with the medallions given away at the traditional series events which take place the week following each of the new events.  If you register for and participate in both of the themed holiday events, you will have completed the Double and rather than receiving the standard event medal and shirt for Christmas Carol Classic and Lucky Laces you will receive a special edition Christmas Double or Lucky Double shirt and medal!To participate in the Double opportunities you must register online by no later than the 1st of the event's corresponding month.  CLICK ON THE LINKS BELOW TO LEARN MORE!
When & Where

City Park, Denver, CO
3001 E. 17th Avenue
Denver, CO 80205


Saturday, November 10, 2018 from 9:00 AM to 12:00 PM (MST)
Add to my calendar
Organizer
Feat on the Street, Inc. - Your Race.  Your Pace.  Your Feat.
Whether you're an experienced athlete looking for a PR and a steady regimen of timed competitive training events or a recreational runner looking for awesome themed events to enjoy with your friends - run Feat on the Street events and find out how easy it is to connect your active, healthy lifestyle and personal goals with a social community that will seem as though it's made just for you!