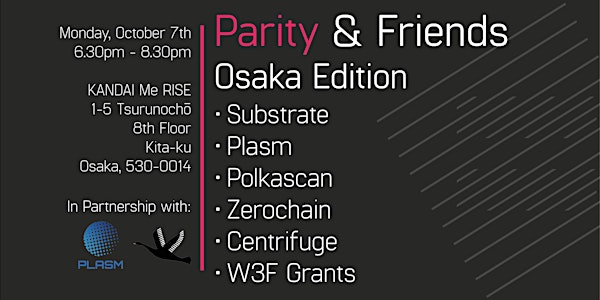 Parity & Friends Meetup - Osaka
Pairty meetup with sushi & beer.
When and where
Location
関西大学 梅田キャンパス KANDAI Me RISE 1-5 Tsurunochō 8th floor Osaka, Osaka 530-0014 Japan
About this event
Join Parity Technologies and Stake Technologies a meetup and happy hour. We will have an open mic and lightening presentations, followed by some food, drinks and networking.
Doors open at 6.30pm, presentations start at 7pm,
7pm: Open Mic - Jump on the mic and share what you are working
7.15pm: Substrate - Shawn Tabrizi, Parity Technologies
7.20pm: Generalized Plasma on Substrate - Takumi Yamashita, Plasm
7.30pm: Polkascan Multi-chain Explorer Update - Emiel Sebastian, Polkascan
7.40pm: Zerochain: A privacy-protecting blockchain on top of Substrate - Osuke Sudo, Zerochain
7.50pm: Bringing real-world assets to the blockchain universe and DeFi - Philip Stehlik, Centrifuge
8pm: W3F Grants - Deiter Fishbein, W3F
Getting to the event room:
Go through Starbucks
Use the elevator in the back right corner of the 1st floor.
Go to the 8th floor
Please see images below for further directions within KANDAI Me Rise
This event is organised Stake Technologies:
Twitter: https://twitter.com/staketech
GitHub: https://github.com/stakedtechnologies/Plasm
and Parity Technologies
Twitter: https://twitter.com/ParityTech
Newsletter: https://www.parity.io/newsletter/
Parity Technologies events privacy notice: https://parity.io/privacy/