Description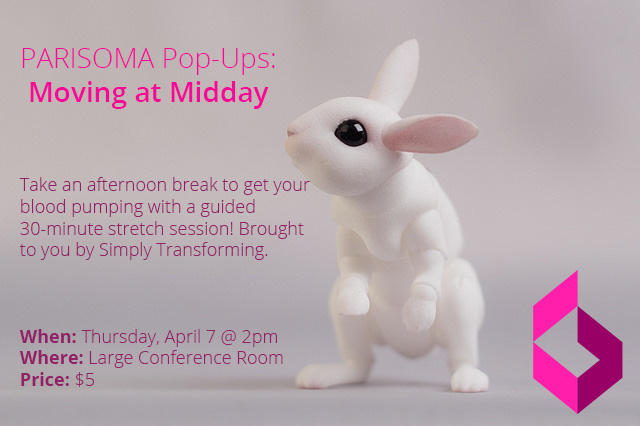 Come Join us for our next PARISOMA Pop-Up: Moving at Midday!
Working at a desk all day can be hard on the body and mind, but allowing yourself a chance to stretch gives your body the TLC it deserves. Join professional trainer, Maria from Simply Transforming, for a 30-minute guided stretch session.
Benefits of stretching include:
Decreased tension and stress in your mind and body

Improved Posture

Increased blood circulation,

Increased energy levels
There will be lots of movement but this isn't a full on workout so you won't have to bring gym clothes...unless you want to!

To pay at the door, please bring $5 cash.
About PARISOMA Pop-Ups:
PARISOMA Pop-Ups are all about creating unique experiences to take a break from the daily work grind. From BBQ lunches and afternoon tea parties, pop-up massage booths to meditation sessions, and everything in between — we're curating the best break time moments for our dear members and neighbors. Join us each month for a fresh take on workday refreshment.
Stay tuned for news about upcoming pop-ups across PARISOMA channels. Have an idea for a pop-up? Want to host your own pop-up? We'd love to hear from you!