Description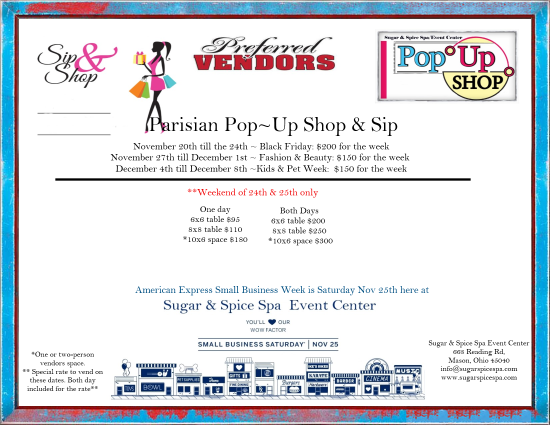 A Parisian Pop ~Up Shop & Sip Event
When: Monday October1, 2017 till Friday December 08, 2017
Where: Sugar & Spice Spa/Event Center ~ 668 Reading Rd, Mason Ohio 45040
JOIN US FOR A PARISIAN SHOPPING EVENT!
Bring your friends, enjoy a glass of wine and a bite to eat while you shop unique apparel, beauty products, accessories & more!
Weekly Rental Only $150
Do you have a product or service that you know the Tri-State needs and wants? Secure your space for Sugar & Spice's Parisian Pop~Up Shop & Sip Takeover
Hosted by Sugar & Spice Spa/Event Center!
Artists, Designers, Musicians, Boutiques, Spas, Crafters, Creators, Jewelry Makers, Retailers and the list goes on and on.....
You will have an opportunity to share your business in our Spa & Event Center Space for a week at a time. In our vibrant community! You will be strategically placed in our busy brick and mortar space. Each vendor is responsible for decorating your space. You will have the opportunity to sell. sell. sell!
Arrival time for set up is 9am - 10:30am. All set ups must be completed by 10:45am( no exceptions) Any vendor not open for business by 11am, may lose their space and non -refundable vending fee.Commitment At least 4-5 hrs each day.
PLEASE understand that we may have multiple vendors applying for one category/space. We will not accept multiple vendors in the same categories in the same week. Management must review and approve all vendors.
What is a Pop-Up Shop?
A "pop-up shop" is a short-term, temporary retail event that is "here today, gone tomorrow". Pop-up retail is the temporary use of physical space to create a long term, lasting impression with potential customers. A pop-up shop allows you to communicate your brand's promise to your customers through the use of a unique and engaging physical environment while creating an immersive shopping experience.
Now that we've got the definition out of the way, let's talk about some of the benefits of doing a pop-up shop.
What are the benefits of a Pop-Up Shop?
• Connect with customers: The Pop-Up Retail format allows you to personally get to know your customers and build stronger relationships.
• Sell more: About 95% of all purchases are still completed offline. This is your opportunity to take advantage of the retail channel.
• Build awareness: Consumers and the media love the excitement generated by Pop-Up Shops. Build brand awareness by going offline.
• It's cheaper: Launching a pop-up shop is 80% cheaper than a traditional retail store.
• Test new markets: Easily enter a new market and launch new products.
Spaces will go quickly so don't delay!
FEATURING:
* BLOGGERS + INFLUENCERS
* BEAUTY 101 SESSION
* STYLE WORKSHOP
* POP-UP SHOPPING w/BEAUTY, ART, STYLE and HOME BRANDS
* GLAM BEAUTY BAGS
* FREE FOR ATTENDEES / OPEN TO THE PUBLIC
* LIMITED VENDOR SPACE