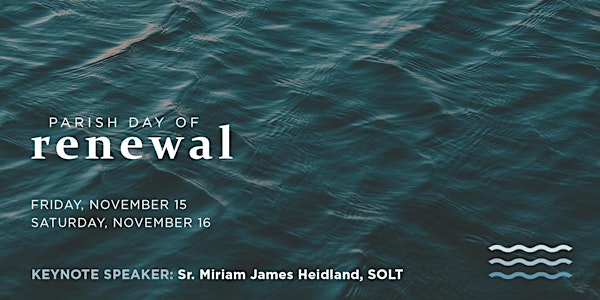 Parish Day of Renewal 2019
Join us for a weekend of fellowship and formation to become better equipped to unleash the Gospel in your parish community!
When and where
Location
Suburban Collection Showplace 46100 Grand River Avenue Novi, MI 48374
About this event
As we gather together to mark the third anniversary of Synod 16 and the second anniversary of the beatification of Blessed Solanus Casey, don't miss this opportunity to become better equipped to unleash the Gospel in your parish community!
Sr. Miriam James Heidland
Is a former Division I athelete who had a radical conversion and joined the Society of Our Lady of the Most Holy Trinity (SOLT) in 1998. Her story has been featured on EWTN's The Journey Home, SEEK Conference, USCCB Convocation, Relevant Radio, and other outlets. She holds a Master's degree in Theology from the Augustine Institue and speaks regularly on the topics of conversion, authentic love, forgiveness, healing and sports!
Sr. Miriam's podcast, Abiding Together, can be found on iTunes and her book, Loved as I Am, can be found on Amazon. She tweets @onegroovynun

Day One is for Pastors, Parish Staff, and Parish Leadership Team Members Only
Parish staffs and leadership teams will explore the importance of transforming the parish culture to one of life-changing personal encounter with Jesus Christ and receive practical ideas, tools, and resources for creating an environment of encounter at their parish.
Friday ticket: $57
Friday + Saturday ticket: $100


Day Two is for all those seeking to be equipped in the work of Unleash the Gospel, including Parishioners, Parish Volunteers, and Lay Ecclesial Ministers.
The lay faithful will deepen their own relationship with Jesus by encountering Christ anew and will be empowered to lead others to encounter Christ through breakout tracks focused on strengthening families in the faith, sharing a personal testimony, creating small group encounters or providing great hospitality.
Saturday Ticket: $57
Saturday Breakout Tracks (Select one track at registration)
Track 1: Rediscovering the Sacredness and Mission of the Human Family Presenter: Dr. Bill Keimig, Assistant Director of the Catechetical Institute at Franciscan University of Steubenville, Ohio. * Will include simultaneous translation in Spanish
Track 2: Stories that Change Lives: How Your Personal Testimony Can Help Others Encounter Christ Presenter: Sarah Kaczmarek, Associate Director of Alpha Catholic, Alpha USA
Track 3: Small Groups: An Ancient Method for a Digital Age Presenter: Tom Corcoran, Co-author of Rebuilt, Tools for Rebuilding, Rebuilding Your Message, and The Rebuilt Field Guide
Track 4: Great Hospitality: Creating an Environment for Encounter Presenter: Tim Glemkowski, President and Founder of L'Alto Catholic Institute

If you have any questions, please contact the Department of Evangelization, Catechesis and Schools at 313-596-7140 or you may email us at webb.marilyn@aod.org to receive for more information.
Si necesita ayuda en español llame al 313-237-4683 o envíe un correo electrónico a rodriguez.gabriela @aod.org