Event Information
Refund Policy
Contact the organizer to request a refund.
Eventbrite's fee is nonrefundable.
The world is out of shape. It's a walking dead giant. It needs to be fixed. It needs to be CURED.
About this Event
BACKGROUND
For this edition of the Paris Talks Conference, we're planning on bringing together experts, policymakers, thought-leaders,  to discuss challenges and opportunities for the "CURE".
The 2021 Paris Talks edition's goals are to highlight the importance curing and fixing issues related to:
Ongoing coronavirus crisis and its ever-evolving variants
Very complex scientific and policy issues to address many other uncurbable diseases like cancer, Alzheimer's, etc.
Ongoing job crisis and its near-future consequences
Cyber-activities nations and/or businesses entities are engaged in, causing unmeasurable casualties,
Food insecurity caused by climate change and other geopolitical factors,
Lack of access to formal education
Hate speech and other threats to democratic systems
all sorts of inequalities linked to gender, religious belief, race, education, place of birth or residence.
Loss and undermining of cultural heritages but also of the biodiversity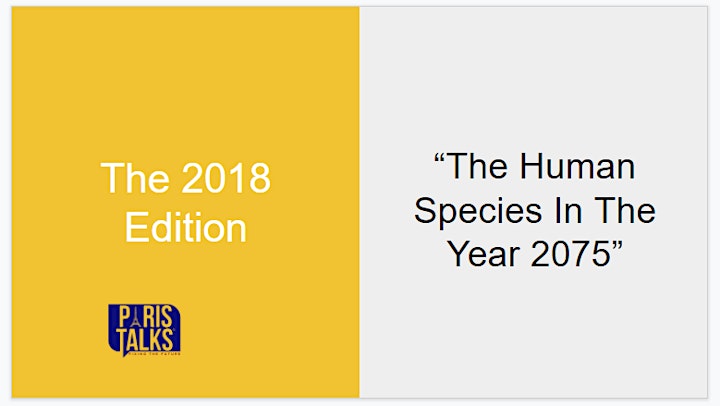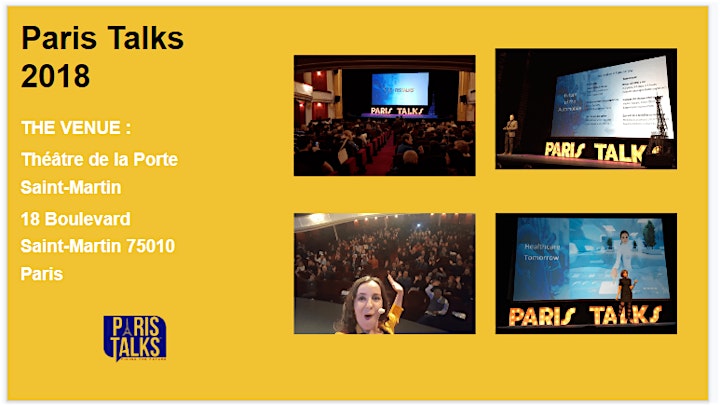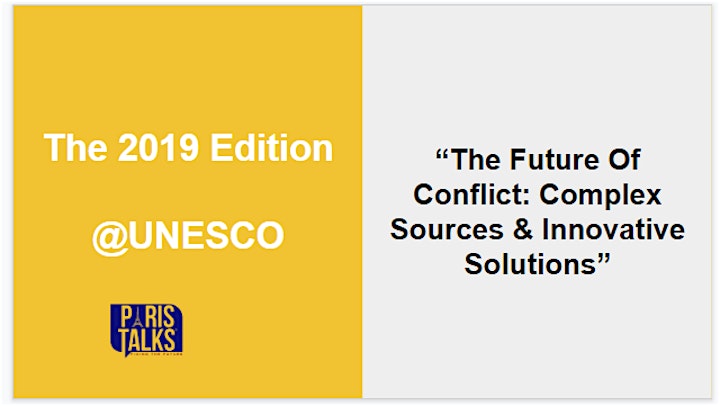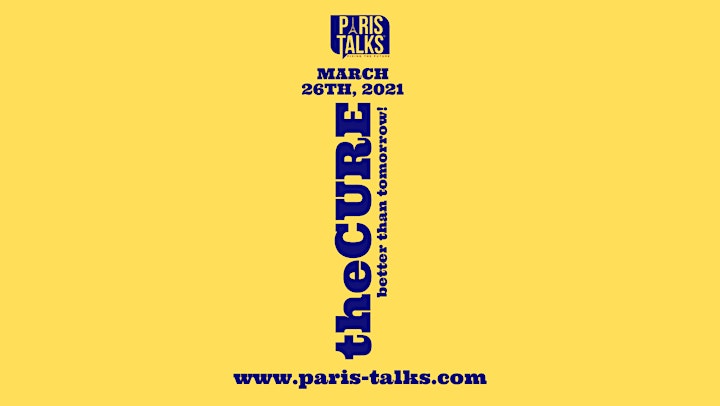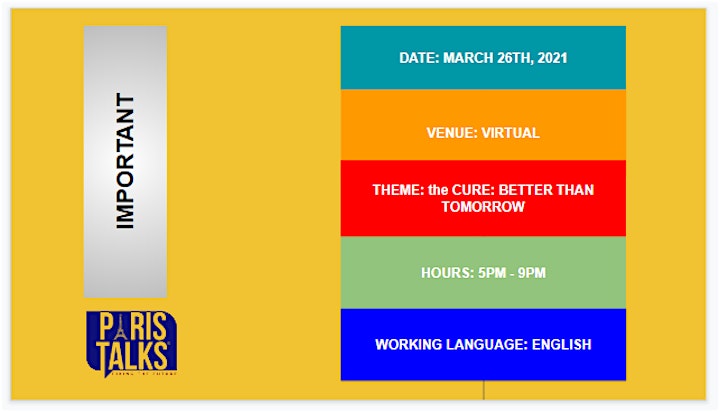 FAQs
What is Paris Talks?
Paris Talks is project devoted to disruptive and innovative ideas about the Future of Humanity.It is a conference that's usually done in the form of short, powerful and inspiring talks (15 minutes or less).
On the Paris Talks One-day conference, Technology, Entertainment, Art and Science do converge, covering a multitude of topics, from business to education to global political, financial and environmental issues, in English from Paris, The French Capital.
Can I sponsor Paris Talks or donate something for your attendees?
One of the decisions we're trying to make in the years to come is to be a sponsor-free conference.The purpose is a very simple one: We want to be able to focus entirely on creating a great experience for our attendees.Now don't get us wrong, at this point we're still accepting sponsorship proposals, but keep in mind that we're very selective. Should you be interested in helping out, please check this out.
How does the sponsorship payment happens?
You can either choose and pay your sponsorship right on this page or reach out to let us know your preferred payment methods and we'll make it happen. Sponsorship payments can now also be made via PayPal or Crypto currency.
Can I nominate myself or someone I represent to be a speaker?
Yes, of course. Here's where you can do that.
How can I contact the organizer with any questions?
Just click on the CONTACT button on the bottom and send us an email. You can as well reach out via a Twitter DM, via email at sponsorship@paris-talks.com
Who are the speakers for the 2021 Paris Talks Edition? 
We've so far received hundreds of speaking application from all over the world. Our curation team is going through them. Speakers will be announced Early March 2021. 
Can I be a volunteer?
Paris Talks conference runs on the energy of our lovely volunteers who care about promoting attendees' experience - and your contribution can help make Paris Talks the leading platform for the exchange of ideas among futurists.As a volunteer, you're a vital part of our conference and help to write a welcoming and outstanding conference experience for our attendees from all over the world.Applications are open. You'll be contacted if we think your skills are needed for this conference right after the closing of ticket sales.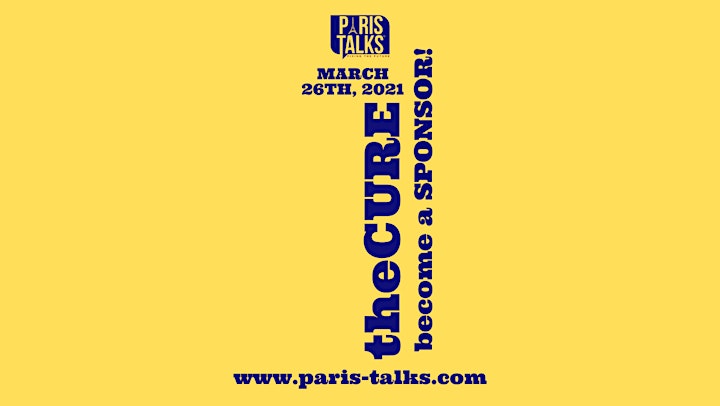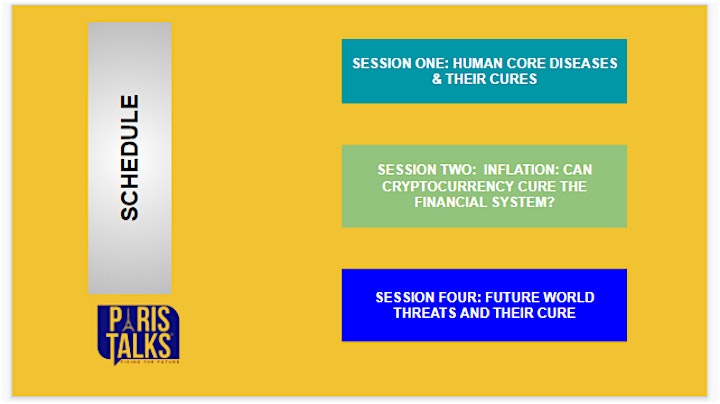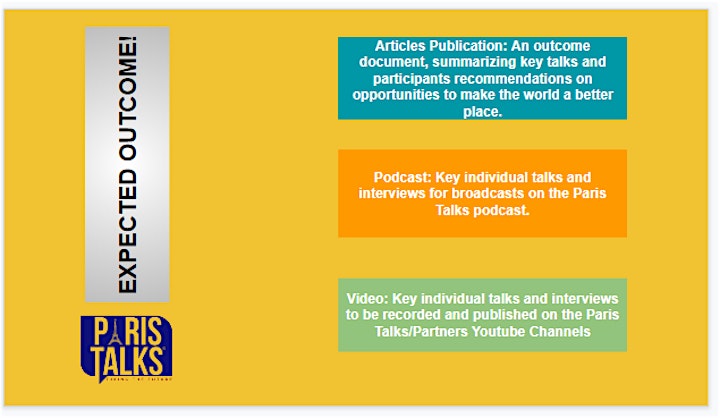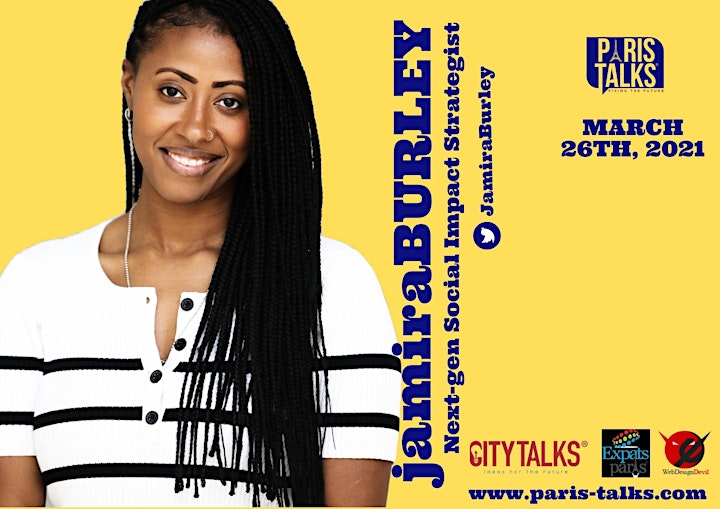 Date and Time
Location
Refund Policy
Contact the organizer to request a refund.
Eventbrite's fee is nonrefundable.